Since the beginning of this year 2020, we launched each week a brand new YouTube video tutorial on how to enable a useful feature in your favorite web browser. That from the Night Mode to the install of the Dark Mode theme in your desktop web browser. And it includes up to 50 how-to YouTube video tutorials.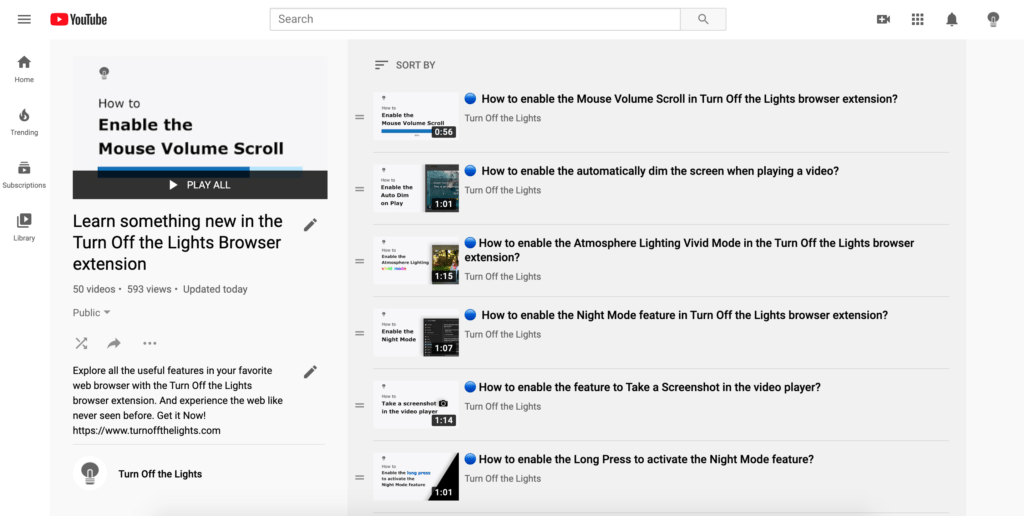 Watch YouTube Video Tutorial Playlist
Learn something new today. And explore all the useful features in your favorite web browser with the Turn Off the Lights browser extension. So you will experience the web like never seen before.
We will much appreciate your support on our work by subscribing to our Turn Off the Lights YouTube Channel. And click on the notification bell icon, so you will be notified when there is a new YouTube video available. And you will discover an interesting feature that you did not know about the Turn Off the Lights browser extension and project. Subscribe Now!
If you like to want to see a different YouTube video tutorial, please let us know on the official Turn Off the Lights Support page. All feedback is welcome so you can know how to set it up for you and for your friends and family.