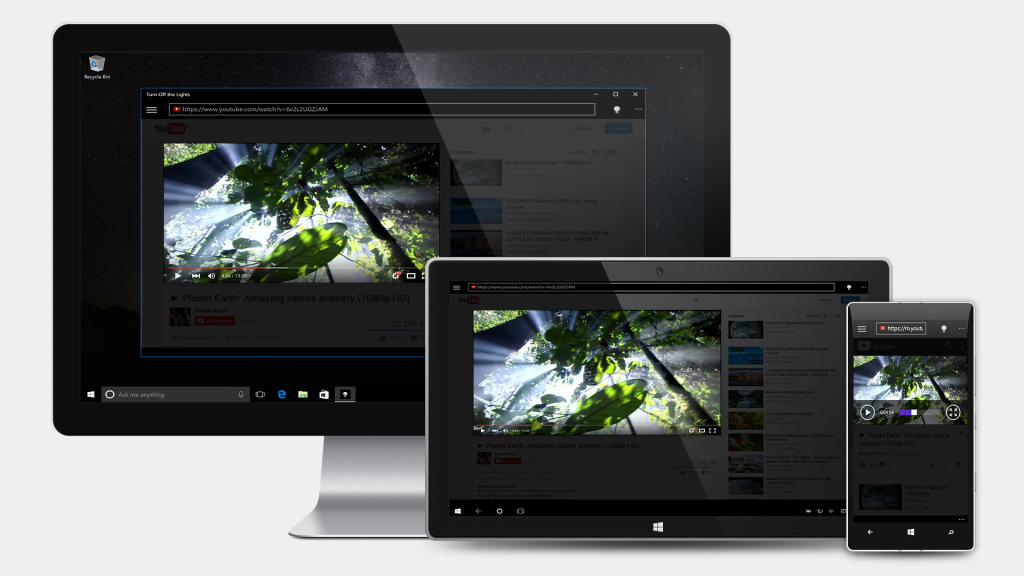 The new update for Turn Off the Lights is now available for Windows 10 users. The app is now engineered and designed for Desktop, Tablet and Phone users. It's the most powerful, well protection for your eyes and unique cinema app available in the Windows Store for free.
What's new in Turn Off the Lights Windows Store App v3.2:
Universal Windows App
Turn Off the Lights is now a universal app for all platforms. So this means if you are on a phone you get the same features as on your tablet and Desktop computer. You can open your tabs overview of this browser on the menu icon top right of your screen. And to open the settings of this application, click the right menu icon.
Cortana
This version also includes support for Cortana, you can ask your personal assistance to do the lights on/off, to play/pause the video, to expand/decrease the video. Or search the web for any queries in your favorite search engine.
YouTube
The only app that has everything you need for all devices. You can dim the web page and highlight the video player, automatically play the YouTube HD video, option to repeat the YouTube video. And now you can also expand the YouTube video in the full window size.
Night Mode
This is one of the great feature that convert the web page from a day to night theme. Now this is even better than the first version we released, it works on all websites. The Night Mode feature converts the background to black, and the text color to white. That all with a single tap on the night switch.
Incognito mode
Doesn't want to track your history when you browse the web? You can use the Incognito mode to doesn't save your browser history and cookies. And it leaves no trace behind when you close the app.
Try today the Turn Off the Lights Windows Store App:
https://www.microsoft.com/en-us/store/apps/turn-off-the-lights/9wzdncrfj9n0
If you want to support our work, please share this news and if you can make a donation of any amount. We appreciate this very much. If you want more languages support or see the translation is not complete. You can update this on the Turn Off the Lights translation project page.