These days, mobile (phone & tablet) internet users are growing faster than the desktop internet users. And as a mobile user you always want to get your personal information from wherever you are on the world. If you are in China, Canada, India or just in Belgium to do a walk at the Belgique coast. When you browse the web in our dark mobile web browser the chances is big that one of this information can be your password.
One of the best password manager tool for macOS and Windows is 1Password. This secures your login information and other passwords.
We are happy to announce that the 1Password extension is now available inside the Turn Off the Lights iPhone / iPad app. When you browse the web you can access your personal login information direct from our app.
1Password Extension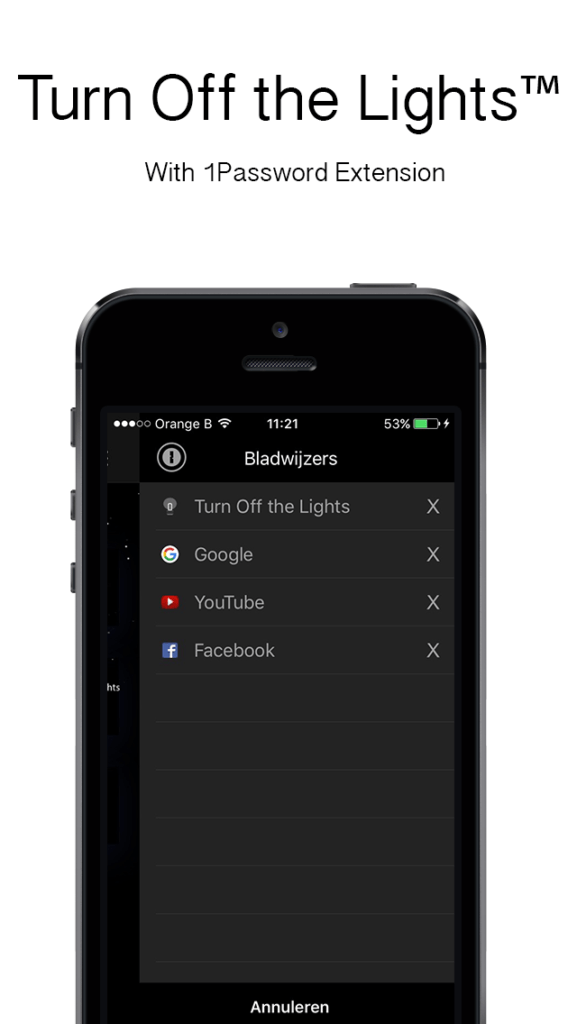 You can open the 1Password app directly from the Bookmarks side panel by swiping your finger from the right edge of your phone to left. Or by clicking on the three dots icon at the top right of your screen -> you see the setting menu show up and tap now on the menu item -> Bookmarks.
If the 1Password is not installed on your device, it shows you the default share action icon from iOS. Where you can also copy the text, add the page to your reading list or print the web page.
Turn Off the Lights dark mobile web browser supports the 1Password extension in the app version 1.2.7 and higher. You can download the update here or from the Apple App Store. It is currently only available for iPod touch, iPhone and iPad users.
We hope you like this free update. And you can always support our work by translating our Turn Off the Lights project or by making a small donation to keep this project alive.