With the launch of the new Turn Off the Lights Safari extension on iOS 15 (that is coming this fall). That makes browsing the internet on the Safari web browser more comfortable, that by dimming the screen and enabling Dark Mode on all websites. And you can already download the Safari extension from TestFlight for the iOS 15 beta users. There is also a bunch of new texts to translate for this new iOS platform.
Translate Safari extension on iOS 15
With the announcement of the WWDC 2020 previous year that Apple is joining the Safari Web Extension technology. That is great news, as we can use the same code as in the Google Chrome extension. It makes creating a browser extension very easy and use the translation files on all web browsers. And now in WWDC 2021, the Safari extension will also work on mobile devices such as iPhone and iPad.
Turn Off the Lights browser extension is free and Open-Source. And it has a strong translation community that makes this number #1 accessibility too available in all languages. So we thank all translators for their help and contribution to making this available in your local language. However, for a Safari extension on iOS 15, you need to have an app to get this extension in your mobile Safari web browser. So here we create a new starting place with useful links and video tutorials. And those are needed to translate.
Supported Languages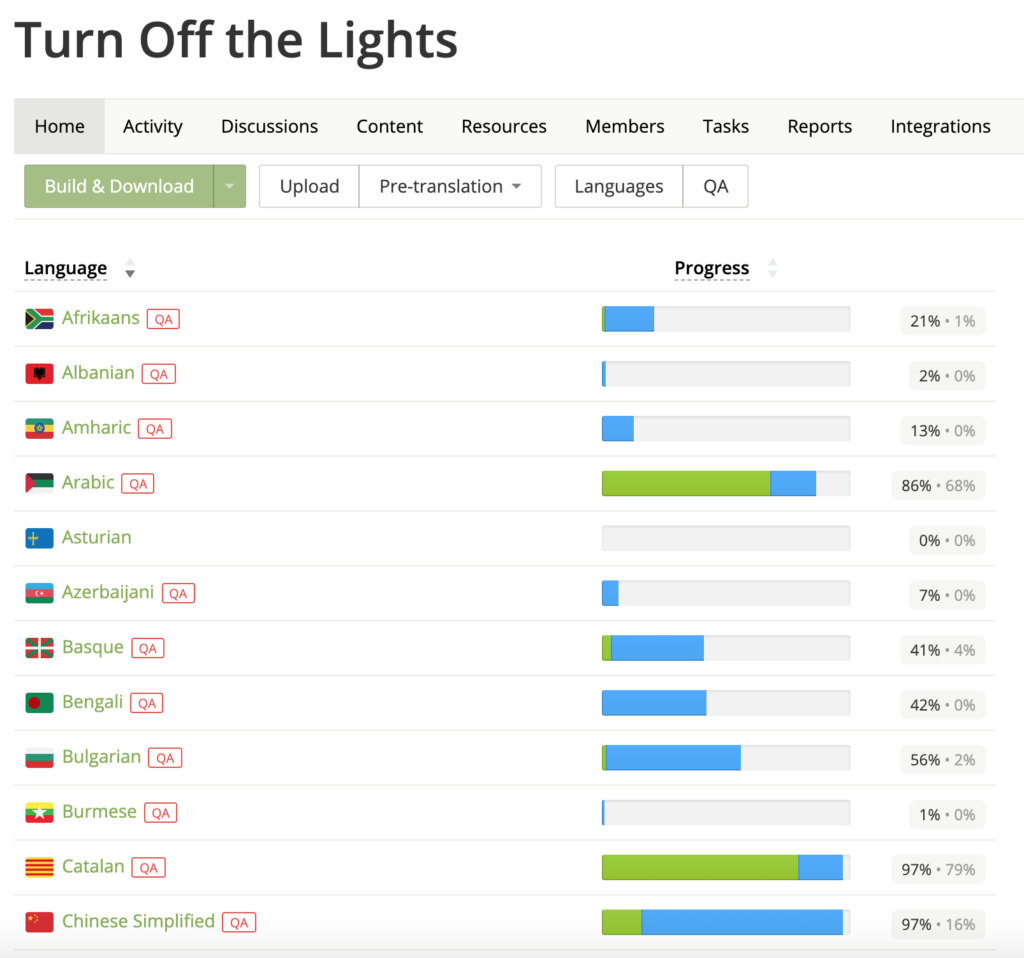 If you write one of these languages: Afrikaans, Albanian, Amharic, Arabic, Asturian, Azerbaijani, Basque, Bengali, Bulgarian, Burmese, Catalan, Chinese Simplified, Chinese Traditional, Chinese Traditional (Hong Kong), Croatian, Czech, Danish, Dutch, English (United Kingdom), Estonian, Filipino, Finnish, French, Galician, Georgian, German, Greek, Gujarati, Hebrew, Hindi, Hungarian, Icelandic, Indonesian, Irish, Italian, Japanese, Kabyle, Kannada, Korean, Kurdish, Latvian, Lithuanian, Macedonian, Malay, Malayalam, Maltese, Norwegian, Persian, Polish, Portuguese, Portuguese (Brazilian), Romanian, Russian, Serbian (Cyrillic), Serbian (Latin), Sinhala, Slovak, Slovenian, Spanish, Spanish (Argentina), Swahili, Swedish, Tamil, Telugu, Thai, Turkish, Ukrainian, Urdu (Pakistan), and Vietnamese. You can help to make this free Safari extension understandable for these languages.
What are you waiting for Translate it Now! And if you know a friend that writes one of these languages, do not hesitate to share this news with them.