It is an exciting day today because now you can test the new Turn Off the Lights Safari extension on iOS 15 beta, which can be used on the Safari web browser on iPhone and iPad. When you enable the Safari extension, you can see the blue accent lamp button in your Safari address bar when using an iPad. And on an iPhone device, you can see the 'Turn Off the Lights' as a menu item in the 3 dots icon.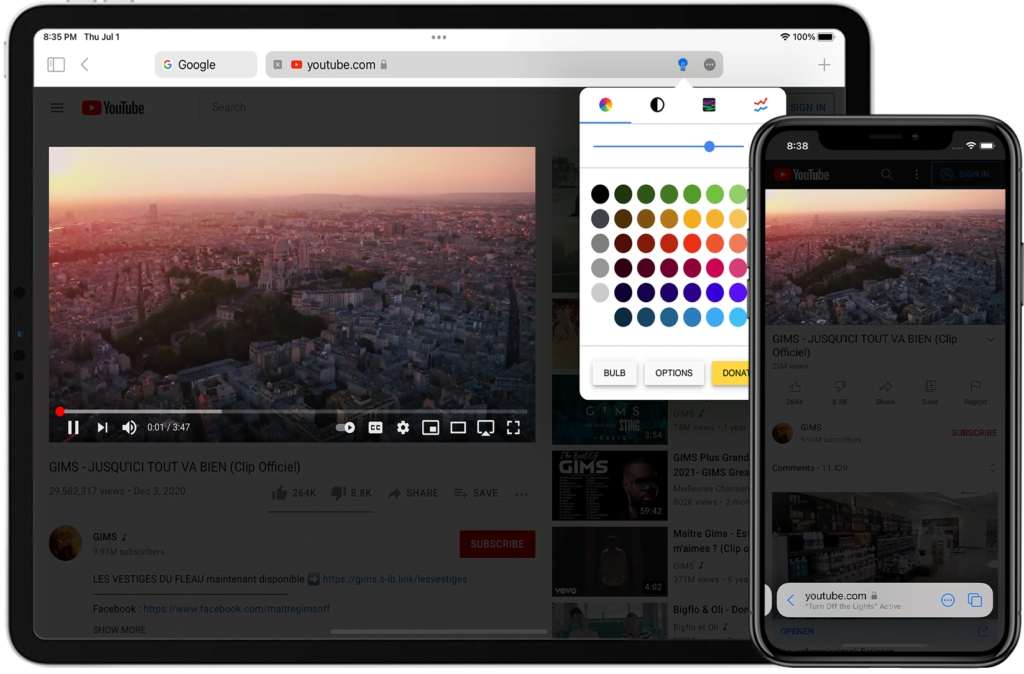 Safari Web Extensions is built primarily on JavaScript, HTML, and CSS. And are available on all Apple devices that support Safari. That includes Mac and iOS. Thereby share the Safari extension on Mac and iOS the same codebase, and have it all the same features inside.
How to get this Safari extension for iOS 15 on my device?
Make sure you have the latest iOS 15 beta installed on your iPhone or iPad
Check you have installed the TestFlight app on your device
Finally open now the TestFlight web page, and you are ready to install the 'Turn Off the Lights for Safari' app
Feedback & Suggestions
When you test this new experience in your Safari web browser, you can do all the amazing options just like in the Safari desktop web browser. Such as enable Night Mode on all websites, force YouTube AutoHD to 8K, or block 60FPS, see a glow effect around the video player with Atmosphere Lighting, etc. And now it is the time to test and feedback to us on what you do not like in the Safari extension. That includes the design, text, image, logo, and bugs. So we can improve this experience in the next upcoming version. That to give you all the best and most comfortable web experience for your eyes in the Safari web browser.
You can feedback very easily in the Apple TestFlight app. And that with a single tap on the blue 'Send Feedback' link. All feedback is taken very seriously. And how more information you can provide, that the better we understand your feedback.
Support our Development
Now you know about the next Turn Off the Lights Safari extension. Which is 100% free for everyone to download on iOS (and also after the TestFlight). It is a powerful tool with many amazing features to get the best web experience. Such as all websites in Dark Mode that with your personal chosen color. Above all, Turn Off the Lights is a free and open-source Turn Off the Lights browser extension. So please do not hesitate to support our work by making a small donation. And share this useful browser extension with your family, friends, and colleagues.