Web browsers are bringing the hands together for a uniform browser extension platform. And that will brings the browser extension to a new Manifest version 3. With the main focus to bring performance and privacy improvement to the users. But also some new strings that need to translate for the next Turn Off the Lights browser extension.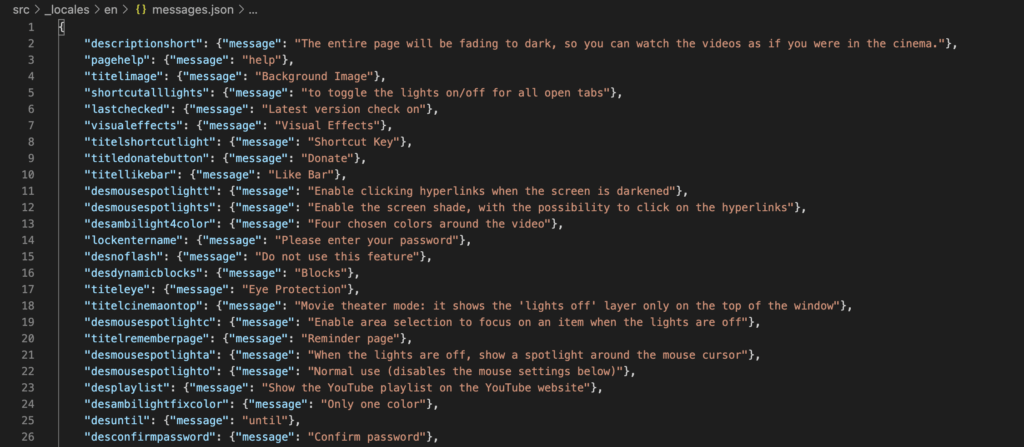 Tomorrow Google Chrome release its 100 version. That is a huge milestone in the history of the Chrome web browser. And later this year it will end the support of the Manifest version 2 Chrome extension. So there is a huge code work to be done in converting this to the latest requirement for the web browser. And translation is one of these important tasks. So that to make it understandable for all the users around the world.
Translate
The browser extension support up to 54 languages. And today we published on the Crowdin project page new strings for the browser extension Manifest v3. That from a string in the Options page to the web browser user interface themes. If you know a person that writes one of these languages: Afrikaans, Albanian, Amharic, Arabic, Asturian, Azerbaijani, Basque, Bengali, Bulgarian, Burmese, Catalan, Chinese Simplified, Chinese Traditional, Chinese Traditional (Hong Kong), Croatian, Czech, Danish, Dutch, English (United Kingdom), Estonian, Filipino, Finnish, French, Galician, Georgian, German, Greek, Gujarati, Hebrew, Hindi, Hungarian, Icelandic, Indonesian, Irish, Italian, Japanese, Kabyle, Kannada, Korean, Kurdish, Latvian, Lithuanian, Macedonian, Malay, Malayalam, Maltese, Norwegian, Persian, Polish, Portuguese, Portuguese (Brazilian), Romanian, Russian, Serbian (Cyrillic), Serbian (Latin), Sinhala, Slovak, Slovenian, Spanish, Spanish (Argentina), Swahili, Swedish, Tamil, Telugu, Thai, Turkish, Ukrainian, Urdu (Pakistan), and Vietnamese. You can help to make this free browser extension understandable for these languages.
Honor list
Each individual contributor will be honored, and his name will be visible on the Translation Community web page. Furthermore, you can ask for a digital certificate to prove you are one of the members that translate the free and Open-Source browser extension.
What are you waiting for Translate it Now! And if you know a friend that writes one of these languages, do not hesitate to share this news with them.