There is a new big update available that is rolling now out to everyone. The Turn Off the Lights Browser extension v4.1 finally includes a search box in the Options page. So you can find easily your favorite feature, and enable it from the search result page. Here a brief overview of what is new in Turn Off the Lights Browser extension v4.1.
Search Box Options page
When you open the Options page, at the top of the web page you see a gray search box. You can type a name in search box, and it will search for that feature in the Options page. Then it show your personal search result page.
In addition, you can type with a capital letter or with low letters. Because the search is upper case insensitive. And if you want to close the search result, click on the x icon in the search box.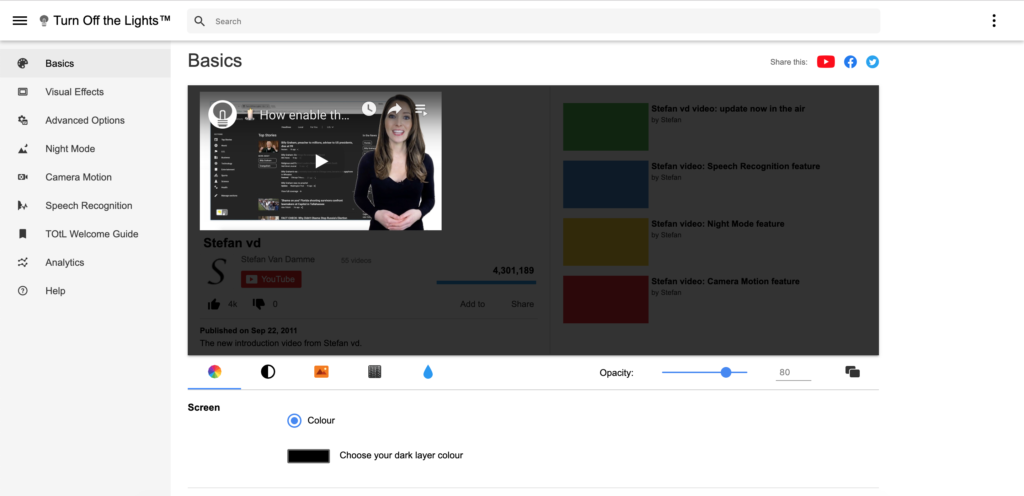 You can also filter the search result, with the tabs on your left side. For example, if you want to see only the items of the "Advanced Options" tab. You can click on this tab, and it removes all the other features from the search page.
Bug fixes and Performance improvement
Furthermore, we improve the performance of the extension and solved the browser compatibility with the Firefox theme feature. And when you enable the Video Toolbar feature in the Options page, can see a toolbar when you move your mouse in the video player. And now when you click on the visualization effect, each player will show his own audio visualization effect.
If you have not installed the Turn Off the Lights Browser extension, you can get it on the official website. And click on the big blue download button. Do not forget we release this as free and open-source software. A small contribution is welcome to maintain our service and work.