If you enable the dark mode appearance on your macOS, you see that everything gets a dark appearance that includes the Apple menu bar and the finder window. If you want only a Dark Mode on your web browser, you can solve this by installing only a Dark Mode Chrome Mac theme in your Google Chrome web browser.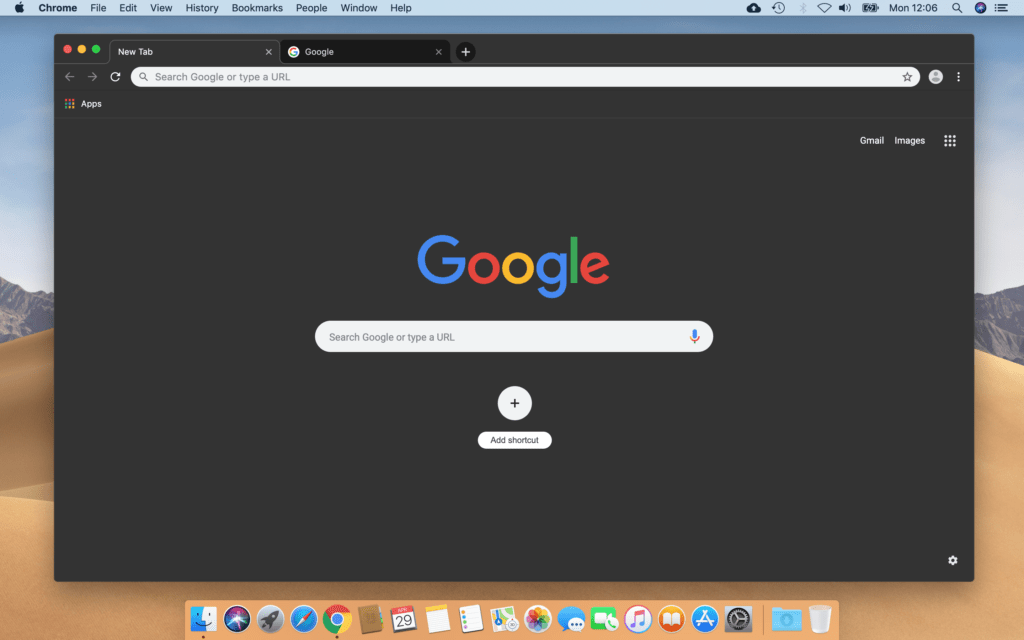 Install a Dark Mode Chrome Mac theme
You can get the Dark Mode for Google Chrome theme on the Chrome web store, and the section Theme. You can download now the Dark Mode Chrome Mac theme here from this direct official website hyperlink. https://chrome.google.com/webstore/detail/dark-theme-for-google-chr/annfbnbieaamhaimclajlajpijgkdblo
Where are you waiting for? It is a free Chrome theme and also available for Windows, macOS and Linux users.
This professional and beautiful theme is simple and coherently designed for your macOS. Here the high-quality theme uses not the shining black as background and frame color. Because this reflects everything back to you and face. The title bar and background frame have 80% darkness of the black color. And a light white text color for each new tab label. That makes this dark mode theme very convenient for people with eye strain during the night. They still can browse the web in a comfortable way.
If you want to get all your favorite websites in a Dark Mode version, you can install the free and most popular and open source Turn Off the Lights Browser extension. And enable in the Turn Off the Lights Options page the Night Mode feature. That feature converts each website stylesheet in a darker appearance version of that website. So you get a better and most comfortable web experience for your eyes. And with a single click, you can convert back to the regular day version of that website. Also, you can change the text, hyperlink and background color for all websites from the most user-friendly Options page.