Table of Contents
Introduction
The easy instruction steps explain to you on how to enable the YouTube HTML5 player. You can enable the HTML5 player by following the steps here below:
Open the YouTube HTML5 website:
https://www.youtube.com/html5
And click on the button Enable HTML5, that is all
The next time you open a YouTube video, it shows automatically the video in the HTML5 video player from YouTube. Now you are no longer dependent on the Adobe Flash plug-in, that said every month to download and update this to the new Flash version. Also an important note, in the year 2020 Adobe Flash plug-in will be discontinued because of performance and security reasons.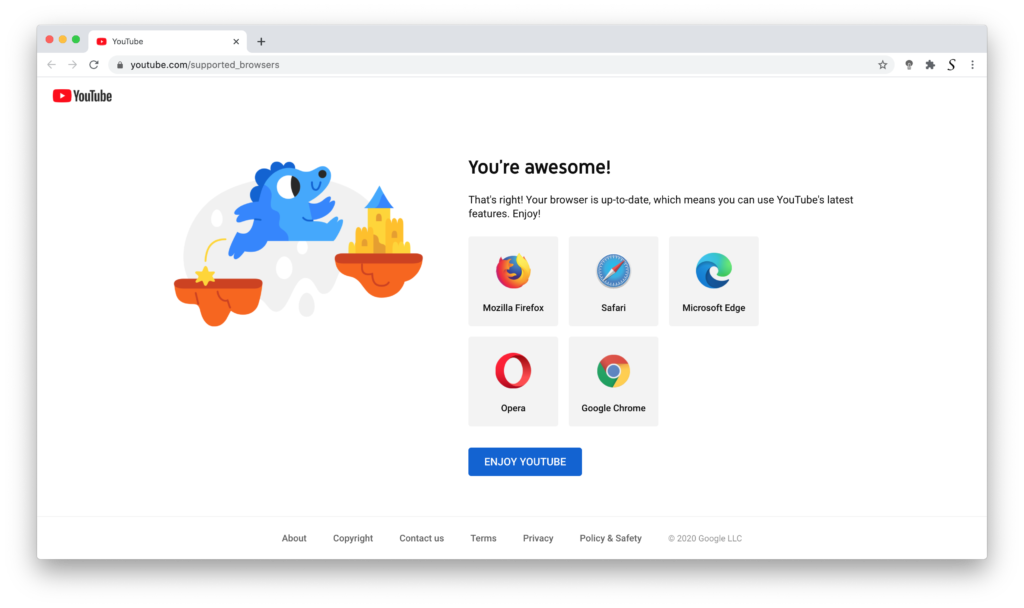 Update YouTube HTML5 player
YouTube recently announced in January 2015 that they will show default the HTML5 version of his YouTuber to all users. This for Google Chrome, Safari, Opera, Firefox, and Microsoft Edge web browser. From this date on your YouTube HTML5 video player will be better than the previous player. It buffers fast your favorite video and not a glitch or obstruction between each frame.
HTML5 Supported Browsers
Many browsers support both the video element in HTML5 and either the H.264 video codec or the WebM format. These include:
As of the year 2015, you can not disable the YouTube HTML5 player. Because the HTML5 video is part of the web rendering and does not use a plugin, extension, or NPAPI to detect this element.
If you still have an issue or question about the Turn Off the Lights browser extension that is available for Google Chrome, Opera, Safari, Firefox, Maxthon, Yandex, and Microsoft Edge. Do not hesitate to contact us from the "Contact Us" hyperlink here on the right sidebar. From that page, you can contact us directly with your own email. And will try to answer your question or feedback as soon as possible.