Table of Contents
Introduction
Welcome to the ultimate guide on OmeTV Dark Mode! In this article, we'll delve into the world of OmeTV and explore the exciting addition of Dark Mode. OmeTV is a popular online video chat platform that's taking the internet by storm. If you're curious about how Dark Mode can enhance your OmeTV experience, you've come to the right place. We'll cover everything you need to know, from the basics to advanced tips, FAQs, and more. So, let's get started!
What is OmeTV?
OmeTV is a popular online video chat platform that allows users to engage in random video conversations with people from around the world. It operates on a simple premise: you log in, and you are randomly matched with another user for a one-on-one video chat. This platform is designed to connect individuals in real-time, providing an opportunity to meet new people, make friends, or simply have interesting conversations.
OmeTV is available both as a website and a mobile app, making it accessible to a wide range of users. It has gained popularity for its simplicity and the excitement of meeting new people and engaging in video chats with strangers. It's a platform that fosters social interaction and allows users to connect with others from various cultures and backgrounds.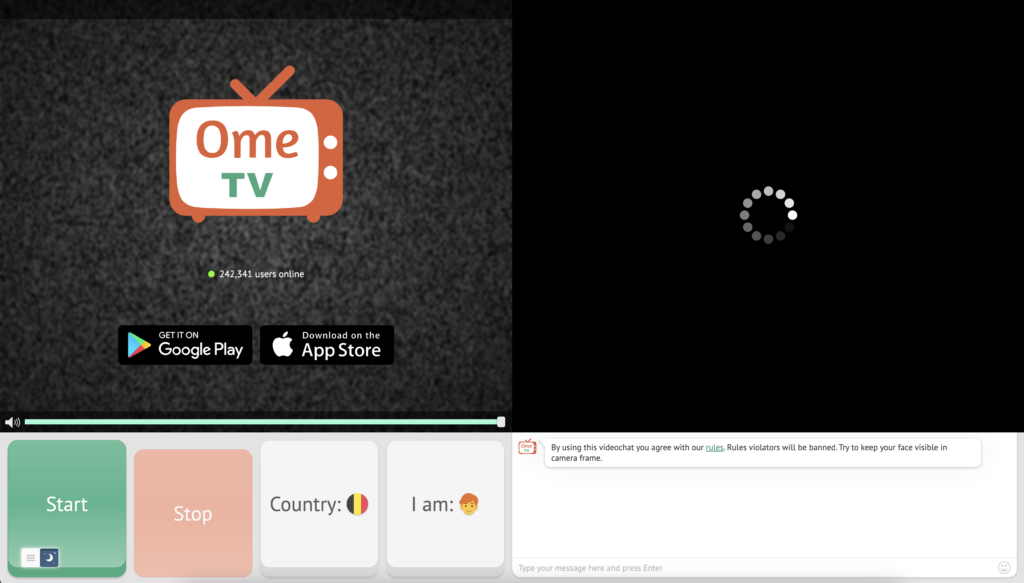 OmeTV Dark Mode
OmeTV Dark Mode is a feature that allows users to switch to a darker color scheme while using the platform. It's designed to reduce eye strain and make your video chats more comfortable, especially during nighttime or in low-light environments.
Are you ready to discover the benefits of OmeTV Dark Mode and how to use it effectively? Let's explore!
How to enable OmeTV Dark Mode
Activating dark mode on OmeTV is a simple process. For regular desktop internet users, you can get also this OmeTV Night Mode version on your favorite web browser. That is with the Night Mode option in the Turn Off the Lights Browser extension. Follow the steps below on how to enable this free solution in your web browser:
Download the Turn Off the Lights browser extension
Click right on the gray lamp button and select Options in the menu item
The Turn Off the Lights Options page shows up and select the tab Night Mode
Enable here the Night switch or the long-press feature to activate the night mode on the current web page
Benefits of OmeTV Dark Mode
OmeTV Dark Mode offers several advantages that can significantly enhance your online video chat experience:
Reduced Eye Strain: The darker color scheme is gentler on your eyes, making it easier to chat for extended periods without discomfort.
Enhanced Aesthetics: Dark Mode gives the platform a sleek and modern look, enhancing the visual appeal of your chat sessions.
Battery Life Saver: If you're using OmeTV on a mobile device, Dark Mode can help conserve battery life.
Ideal for Low-Light Conditions: Whether you're in a dimly lit room or chatting at night, Dark Mode ensures you can see your screen clearly without disturbing others.
Conclusion
In conclusion, OmeTV Dark Mode is a valuable addition to an already popular online video chat platform. It offers numerous benefits, from reducing eye strain to enhancing aesthetics and battery conservation. By following our simple guide, you can easily activate Dark Mode and enjoy a more comfortable chatting experience.
So, why wait? Give OmeTV Dark Mode a try today and elevate your video chat experience to a new level of comfort and style.
If you find it useful to get your Dark Mode for OmeTV, then you can share the link on Facebook or share the link on Twitter. So your family, friends, or colleagues can know about this handy free tool.
FAQ OmeTV Dark Mode
Is OmeTV Dark Mode available on all devices?
Yes, OmeTV Dark Mode is available for both desktop and mobile devices, ensuring a seamless experience for all users.
Can I customize the intensity of Dark Mode?
Yes, with the Turn Off the Lights browser extension, you can customize the dark mode color to your chosen colors. That is for the background, text, and hyperlink.
Does Dark Mode save battery on all devices?
While it generally conserves battery on mobile devices, the impact may vary depending on your device's specifications.
Is Dark Mode suitable for people with visual impairments?
OmeTV Dark Mode can be beneficial for users with visual impairments, as it provides a high-contrast and easier-to-read interface.