OK Google Turn Off the Lights, that is what you can say to our browser extension to dims the screen. In the most popular Turn Off the Lights browser extension that enhances your online video experience. Such as YouTube, Vimeo, Dailymotion, Facebook, Youku, etc. Can it dims your screen when you click on the gray lamp button, and highlight automatically the video player on that web page. So you can focus on the important thing on that page, without all the content around this player that can annoy you.
OK Google Turn Off the Lights
The Turn Off the Lights Browser extension can you download for FREE in the Chrome web store. Here it got the speech recognition feature that converts everything you said into action. The command "OK Google Turn Off the Lights" gives you your personal device the action to dims your whole web browser screen. However, you can command the web browser also for other tasks. Such as "play this video", "pause this video", "activate the night mode" etc.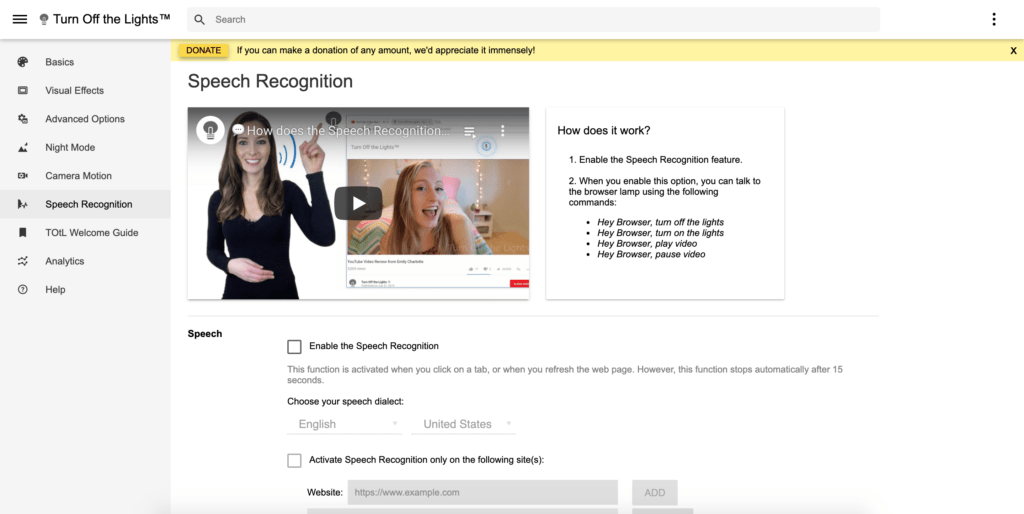 In the Microsoft Edge web browser, you can call your personal assistant by saying "Hey Browser Lamp, dims the screen". This is only available in the Microsoft Windows 10 operating system that is for Desktop, Mobile, and Tablet.