If you are a KuCoin user, you may have noticed the option to switch to "Night" on the KuCoin trade page. But what is KuCoin dark mode, and how does it work? In this article, we will explore everything you need to know about this feature, including its benefits, how to enable it, and how it can improve your trading experience.
What is KuCoin?
KuCoin is a cryptocurrency exchange platform that allows users to buy, sell, and trade various cryptocurrencies using a user-friendly interface and advanced trading features. The platform was founded in 2017 and has since grown to become one of the top 20 cryptocurrency exchanges in the world, serving users in more than 200 countries and regions.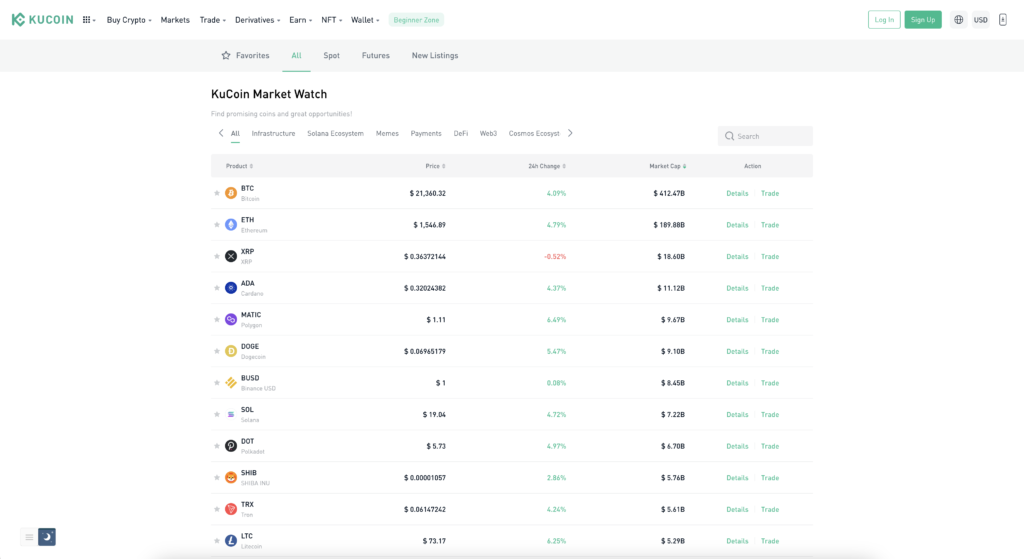 What is KuCoin Dark Mode?
KuCoin dark mode is an alternative display mode for the KuCoin trading platform. It allows you to switch from the default light theme to a darker theme that is easier on the eyes and can reduce eye strain during long trading sessions.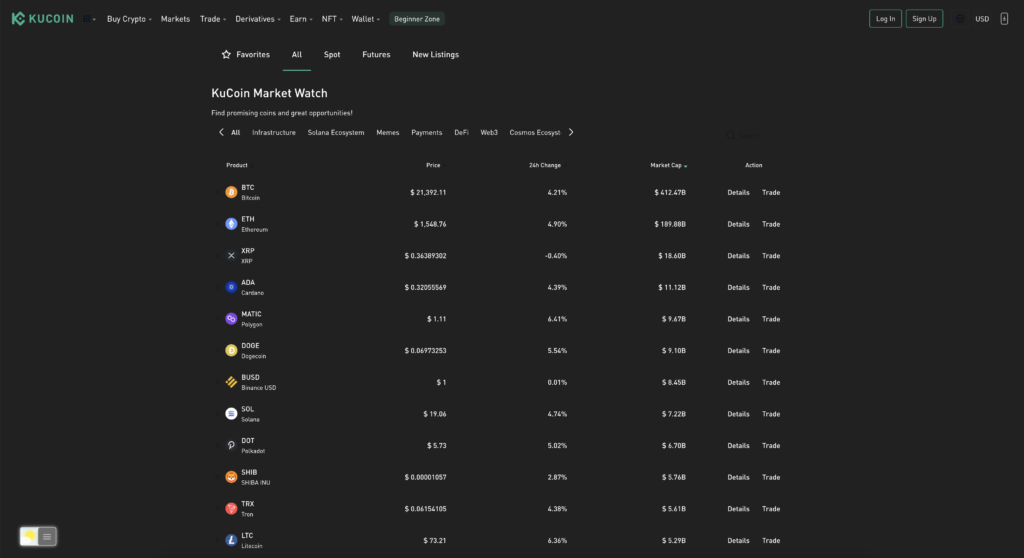 Benefits of KuCoin Dark Mode
Reducing Eye Strain
One of the main benefits of dark mode is that it can reduce eye strain. The contrast between bright text and a dark background can be less taxing on the eyes, especially when you are trading for extended periods.
Saving Battery Life
Another advantage of dark mode is that it can help save battery life on devices with OLED or AMOLED screens. In these displays, black pixels are essentially "turned off," which can save power and prolong battery life.
Improving Focus
Some users find that dark mode can help improve their focus and reduce distractions. With a darker background, the text and interface elements can stand out more prominently, making it easier to focus on your trades and analysis.
How to Enable KuCoin Dark Mode
Basic Dark Mode Option
Enabling dark mode on KuCoin is easy. Here's how to do it:
Log in to your KuCoin account.
Click On Trade page
And on the top you see the Moon button, click on it
Then click on the button action Night to activate the dark theme
Most customizable Dark Mode Option
For regular desktop internet users, you can get also this KuCoin Night Mode version on your favorite web browser. That with the Night Mode option in the Turn Off the Lights Browser extension. And that with more customizable option. So you can see the dark color you want to see for the background, text, hyperlink,s and buttons. Follow the steps here below on how to enable this free solution in your web browser:
Download the Turn Off the Lights browser extension
Click right on the gray lamp button and select Options in the menu item
The Turn Off the Lights Options page shows up and select the tab Night Mode
And enable here the Night switch or the long-press feature to activate the night mode on the current web page
In addition, you can customize the website background, text, and hyperlink colors. So you can make it personal to your night theme style. And get the Dark Mode on KuCoin you want to see in your web browser.
Site Access (only to KuCoin Dark Mode)
Turn Off the Lights browser extension take your privacy very seriously, and you set up this browser extension to only allow the King website. Here are the steps on how to activate this feature.
Open the chrome://extensions page and search for Turn Off the Lights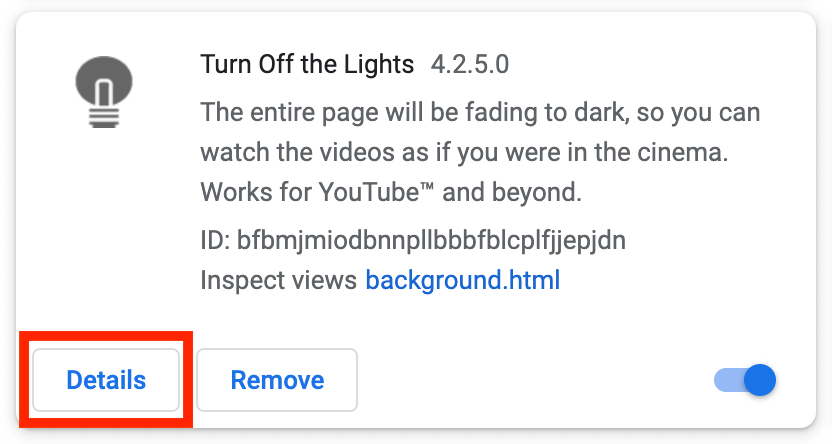 Click on the button Details to open the detailed information about this Chrome extension
Search for the section Site Access, and click on the selection box to the menu item "On specific sites"
A new popup panel shows up, and type now this URL in the text box "https://www.kucoin.com"
When you are done, click on the blue Add button to close this panel
Customizing KuCoin Dark Mode
Once you have enabled dark mode, you may want to customize it to your liking. Here are some options you can adjust:
Dark Mode Theme
KuCoin offers two different dark mode themes: "Default" and "Deep Blue." You can choose which one you prefer by clicking the "Theme" dropdown menu in the "Interface Settings" section.
Accent Color
You can also change the accent color used in dark mode. Click on the "Color" dropdown menu and select the color you prefer.
Font Size
Finally, you can adjust the font size used in dark mode. Click on the "Font Size" dropdown menu and choose the size that is most comfortable for you.
Conclusion
KuCoin dark mode is a useful feature for traders who spend a lot of time on the platform. By reducing eye strain, saving battery life, and improving focus, it can make your trading experience more comfortable and efficient. Enabling and customizing dark mode is easy, so give it a try and see if it works for you.
Hope that answers one of your questions about the King Dark Mode:
What is KuCoin?
Is there KuCoin dark mode?
How to enable KuCoin dark mode?
What are the benefits of using King dark mode?
KuCoin dark mode is not working
How to install KuCoin dark?
Enable dark mode on any website
If you find it useful to get your Dark Mode for KuCoin, then you can share the link on Facebook or share the link on Twitter. So your family, friends, or colleagues can know about this handy free
Is KuCoin dark mode available on all devices?
Yes, KuCoin dark mode is available on all devices that support the platform, including desktop and mobile devices.
Can I switch back to light mode after enabling dark mode?
Yes, you can switch back to light mode at any time by toggling the "Dark Mode" switch to the off position.
Will using dark mode affect my trades or order placement?
No, using dark mode will not affect your trades or order placement in any way.
Can I customize the color scheme in KuCoin dark mode?
Yes, you can customize the dark mode theme. If using the free and Open-Source Turn Off the Lights browser extension. When you enable the Night Mode feature, you have the option to choose the background color and font color.
Is dark mode better for my eyes than light mode
Yes, for many people, dark mode can be better for their eyes than light mode. When you use a bright background with dark text, the high contrast can be straining on your eyes, especially when you are using the platform for extended periods. With dark mode, the opposite is true, and it can be easier on your eyes, reducing fatigue and strain.