Table of Contents
Introduction
Dark mode has become increasingly popular, and for good reason. It not only reduces eye strain but also adds a touch of sophistication to your user experience. In this article, we will explore HubSpot Dark Mode and how it can transform your digital workspace into a sleek, stylish, and comfortable environment. Let's dive in!
What is HubSpot?
HubSpot is a popular customer relationship management (CRM) and inbound marketing software platform that helps businesses attract, engage, and delight customers. It provides a suite of tools and features designed to assist companies in various aspects of their marketing, sales, and customer service efforts.
HubSpot is known for its user-friendly interface and offers a wide range of services, including:
Inbound Marketing: HubSpot offers tools for creating, optimizing, and analyzing marketing content, such as blog posts, landing pages, and social media posts. It helps businesses attract and engage potential customers through content marketing.
Sales Hub: The Sales Hub is a set of tools that assists sales teams in managing leads, automating outreach, and tracking customer interactions. It includes features like email tracking, lead scoring, and CRM integration.
Service Hub: This part of HubSpot focuses on customer service and support. It includes tools for managing customer inquiries, providing support, and tracking customer feedback. Features include ticketing systems, knowledge base creation, and live chat.
CRM: The HubSpot CRM is at the core of the platform. It allows businesses to manage their contacts, track interactions, and gain insights into customer behavior. The CRM is available for free and provides a centralized database for customer information.
HubSpot Academy: HubSpot offers a range of educational resources, including courses and certifications, to help users learn more about inbound marketing and using the HubSpot platform effectively.
Automation: HubSpot allows for marketing and sales automation, making it easier to nurture leads and engage with customers at scale.
Analytics and Reporting: Users can access detailed analytics and reporting features to measure the performance of their marketing and sales efforts, helping them refine their strategies over time.
HubSpot Dark Mode: Shedding Light on a Stylish Feature
HubSpot Dark Mode is a feature that allows you to change the color scheme of your HubSpot account from the default light theme to a darker one. This mode is not only aesthetically pleasing but also offers several practical benefits.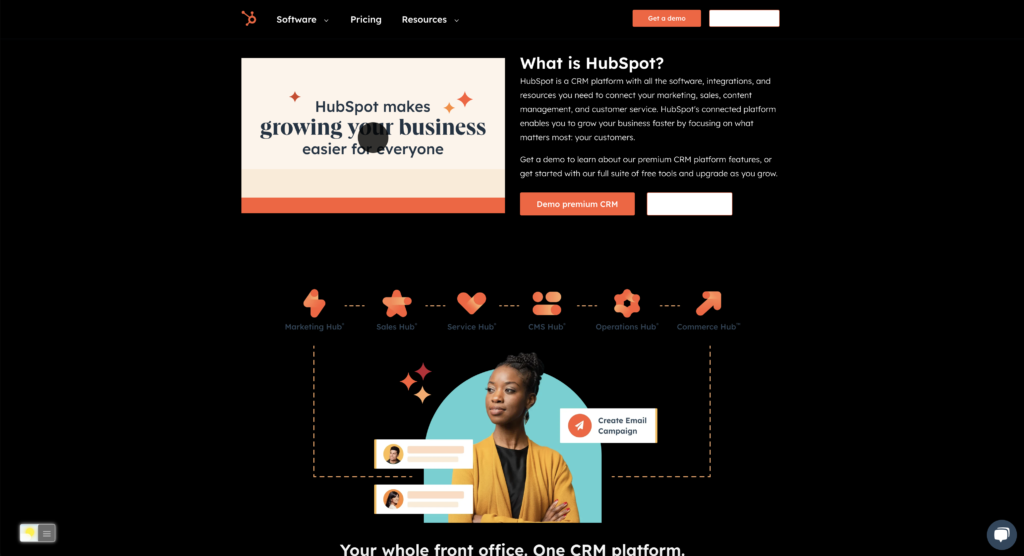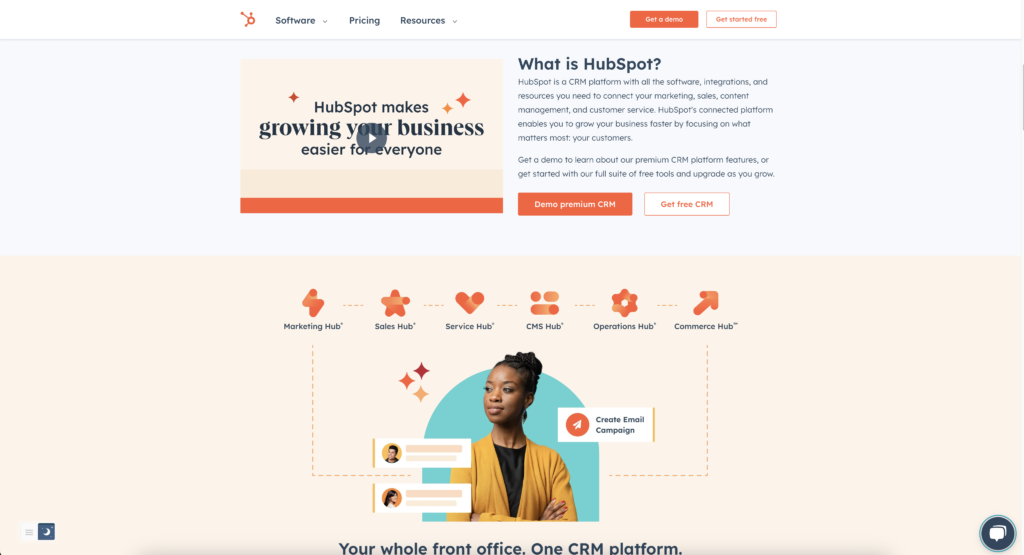 How to enable HubSpot Dark Mode
Activating dark mode on HubSpot is a simple process. For regular desktop internet users, you can get also this HubSpot Night Mode version on your favorite web browser. That is with the Night Mode option in the Turn Off the Lights Browser extension. Follow the steps below on how to enable this free solution in your web browser:
Download the Turn Off the Lights browser extension
Click right on the gray lamp button and select Options in the menu item
The Turn Off the Lights Options page shows up and select the tab Night Mode
Enable here the Night switch or the long-press feature to activate the night mode on the current web page
Benefits of Using HubSpot Dark Mode
Reduced Eye Strain: One of the key advantages of HubSpot Dark Mode is the reduced strain on your eyes, especially during prolonged usage. The darker background is easier on the eyes and can help prevent discomfort.
Improved Focus: Dark mode can help you stay more focused by minimizing distractions. The contrast between text and background makes it easier to concentrate on your work.
Extended Battery Life: If you're using a device with an OLED or AMOLED screen, HubSpot Dark Mode can help conserve battery life. Dark pixels consume less power on these screens.
Sleek and Stylish: Dark mode just looks cool. It gives your workspace a modern and sophisticated appearance, making your HubSpot account stand out.
Customization: HubSpot allows you to customize the intensity of dark mode, so you can find the perfect balance between style and readability.
Conclusion
In conclusion, HubSpot Dark Mode is a fantastic feature that combines style with practicality. It reduces eye strain, increases focus, and enhances the overall user experience. By offering customization options, it allows you to tailor your HubSpot account to your liking. Whether you're burning the midnight oil or just prefer a darker aesthetic, HubSpot Dark Mode is a great addition to your workspace.
Embrace the dark side and unlock the benefits of HubSpot Dark Mode today. Your eyes will thank you, and your work will shine brighter in the dark. Remember, you can switch back to the light side at any time, but once you experience the elegance of HubSpot Dark Mode, you may never want to.
If you find it useful to get your Dark Mode for HubSpot, then you can share the link on Facebook or share the link on Twitter. So your family, friends, or colleagues can know about this handy free tool.
FAQs HubSpot Dark Mode
Can I use HubSpot Dark Mode on any device?
Yes, you can enable HubSpot Dark Mode on any device that supports HubSpot, including desktops, laptops, and mobile devices.
Does HubSpot Dark Mode affect the functionality of the platform?
No, HubSpot Dark Mode is purely a visual customization feature. It does not impact the functionality of HubSpot in any way.
Can I switch back to the light mode if I change my mind?
Absolutely, you can switch back to the default light mode at any time by following the same steps used to enable HubSpot Dark Mode.
Does HubSpot Dark Mode save energy on all devices?
While it's most effective on devices with OLED or AMOLED screens, it can still reduce eye strain on other devices.
Can I adjust the darkness level in Dark Mode?
Yes, HubSpot allows you to customize the darkness level to suit your preferences. Find the perfect balance between style and readability.