Are you looking at how to enable the VOX Dark Mode website? Then you are on the correct help page. This helpful article will explain to you what is VOX and how you can enable this Dark Mode feature for free. That with no in-app purchase and no subscription service.
What is VOX?
The Vox website is an American news and opinion website owned by Vox Media. The website was founded in April 2014 by Ezra Klein, Matt Yglesias, and Melissa Bell. It covers a wide range of topics, including politics, culture, technology, and science, and is known for its explanatory journalism and in-depth analysis. Vox's media presence also includes a YouTube channel, several podcasts, and a show presented on Netflix. Vox's visitors are primarily interested in news and current events and come from a variety of backgrounds and demographics. That has no official VOX Dark Mode, however, there is a free solution for this problem.
What is Dark Mode?
A dark theme, or dark mode, is a color scheme in which the background of a user interface is dark, and the text and other elements are light. The goal of a dark theme is to reduce the amount of light emitted by a device and make it easier on the user's eyes, especially in low-light conditions. Dark themes are also designed to reduce the amount of strain on the user's eyes, which can help prevent fatigue and headaches.
Some people also prefer dark themes because they find them more visually appealing. It can also save battery life on devices with OLED screens. Many apps and operating systems, such as Windows, macOS, iOS, and Android, now include built-in dark themes or allow users to enable them through settings or third-party apps.
What are the benefits of using Dark mode?
There are several benefits when using VOX Dark Mode, and that for the long usage:
One benefit is that it reduces eye strain as the dark background with light text is less harsh on the eyes than a white background with dark text. This can be helpful for users who spend a lot of time looking at screens.
Another benefit is that it improves visibility in low-light conditions, such as at night or in bed, making it easier to see the device's screen.
Additionally, dark themes can help improve the quality of sleep by reducing the amount of blue light emitted by the device which can help regulate the body's circadian rhythm.
Dark themes can also extend the battery life on some devices as it reduces the power consumption of the pixels that display black or dark colors.
How to get Dark Mode?
Getting VOX Dark Mode can be solved by using the Turn Off the Lights browser extension.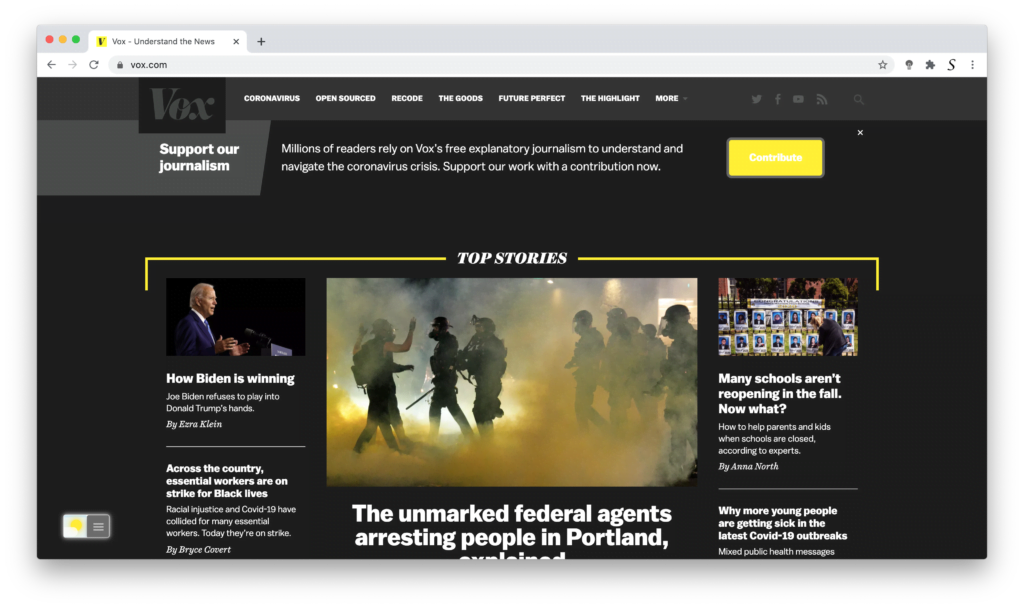 By installing the free and Open-Source Turn Off the Lights browser extension you can enable the Night Mode feature. That is the feature name that converts all your websites to your personal dark mode version. Furthermore, it will be in harmony with the same dark style on all web pages.
Activate VOX Dark Mode with the free browser extension
For regular desktop internet users, you can get also this VOX Night Mode version on your favorite web browser. That with the Night Mode option in the Turn Off the Lights Browser extension. Follow the steps here below on how to enable this free solution in your web browser:
Download the Turn Off the Lights browser extension
Click right on the gray lamp button and select Options in the menu item
The Turn Off the Lights Options page shows up and select the tab Night Mode
And enable here the Night switch or the long-press feature to activate the night mode on the current web page
In addition, you can customize the website background, text, and hyperlink colors. So you can make it personal to your night theme style.
Conclusion
Activate dark mode on the VOX website?
How to turn VOX Dark Mode?
How to turn on dark mode on VOX?
How to change VOX to dark mode?