Are you looking for a Swisscows Dark Mode version? Then you are on the correct help page. Here we will explain what is Swisscows and how to customize them.
Swisscows is a web search engine launched in 2014, a project of Hulbee AG, a company based in Egnach, Switzerland. It uses semantic data recognition that gives faster "answers" to queries. In addition, Swisscows does not store users' data. That is created by Andreas Wiebe.
However, the Swisscows do not provide you with the option to customize the search website design. That includes the option for the dark mode version. That is where the Turn Off the Lights browser extension can help you. With the Night Mode feature, which is inside the free browser extension, you can activate your own Swisscows Dark Mode version of it. This makes the most beautiful search page with your own custom dark mode theme. There is no other way to do that in the free and Open-Source Turn Off the Lights browser extension since the year 2009.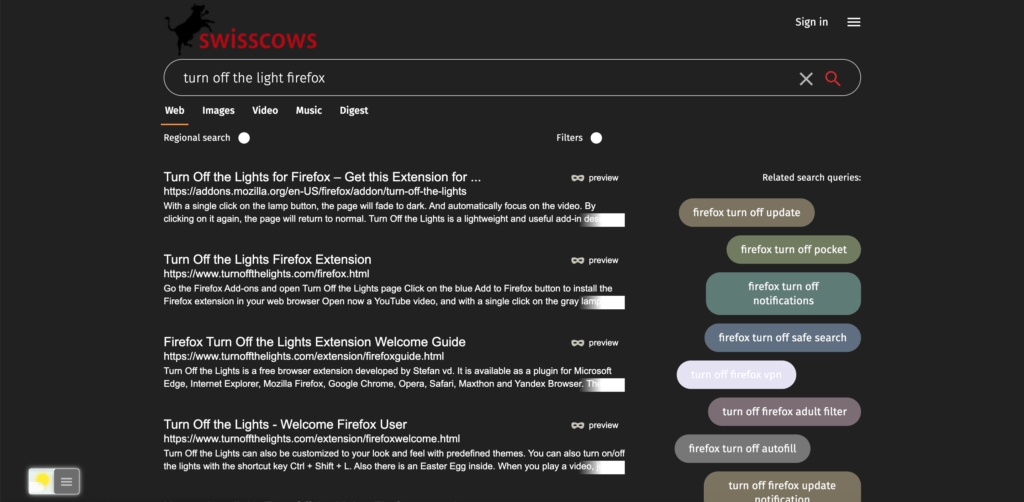 Activate Swisscows Dark Mode with the free browser extension
Download the free and Open-Source Turn Off the Lights browser extension
Click right on the gray lamp button and select Options in the menu item
The Turn Off the Lights Options page shows up and select the tab Night Mode
And enable here the Night switch or the long-press feature to activate the night mode on the current web page
Steps to activate Swisscows Dark Mode (iOS web browser)
If you want to keep it always enabled in our Safari web browser on iOS and iPadOS. See this YouTube video tutorial on how to enable the Night Owl feature:
If you need any assistance or feedback to improve this free and Open-Source browser extension. You can always contact us on the support form here on the left side.
Swisscows Mobile app
On the App Store and Google Play store you can download the Swisscows mobile app: https://apps.apple.com/us/app/swisscows-private-search/id1581108092 and https://play.google.com/store/apps/details?id=com.swisscows.search&hl=en&gl=US
Conclusion
Activate dark mode for Swisscows desktop
How do I make Swisscows Black?
Is there a dark mode for Swisscows?
How to enable dark mode for Swisscows?