Reader's Digest website is an American general-interest family magazine, published 10 times a year. Formerly based in Chappaqua, New York, it is now headquartered in midtown Manhattan. The magazine was founded in 1922 by DeWitt Wallace and Lila Bell Wallace. The total circulation (in the year 2020) is 3,029,039. The first issue date: 1922
With the current editor-in-chief Bruce Kelley. The company that owns this magazine is Trusted Media Brands, and which is based in Manhattan.
The problem with this magazine is that it do not provide your a dark mode version. However, you can solve this problem with the install of the free Turn Off the Lights browser extension. Hereby you can activate the Night Mode feature that convert it to your personal Reader's Digest Dark Mode version.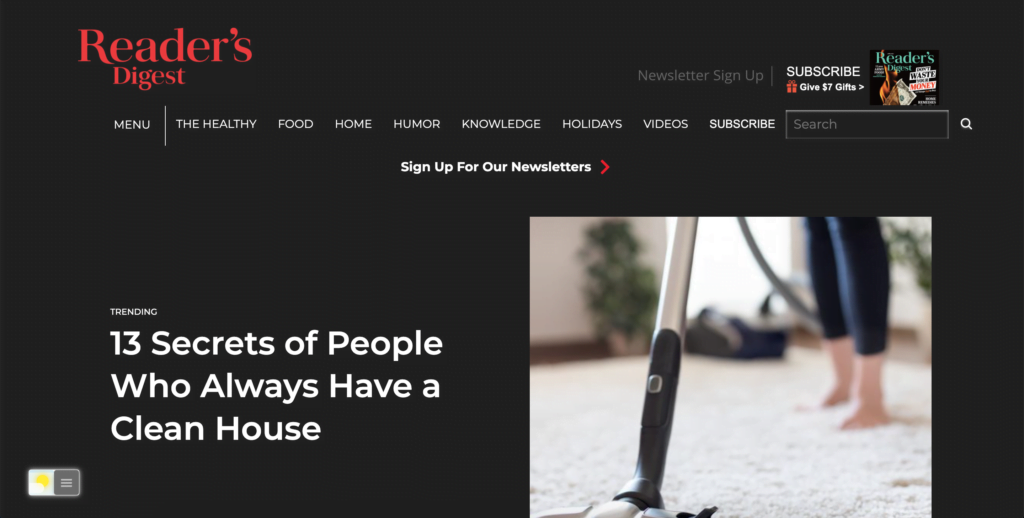 Activate Reader's Digest Dark Mode with the free browser extension
For regular desktop internet users, you can get also this Reader's Digest Night Mode version on your favorite web browser. That with the Night Mode option in the Turn Off the Lights Browser extension. Follow the steps here below on how to enable this free solution in your web browser:
Download the Turn Off the Lights browser extension
Click right on the gray lamp button and select Options in the menu item
The Turn Off the Lights Options page shows up and select the tab Night Mode
And enable here the Night switch or the long-press feature to activate the night mode on the current web page
In addition, you can customize the website background, text, and hyperlink colors. So you can make it personal to your night theme style.
Conclusion
Hope that answer one of your questions about the Reader's Digest Dark Mode:
Activate dark mode for Reader's Digest desktop
How do I make Reader's Digest Black?
Is there a dark mode for Reader's Digest?
How to enable dark mode for Reader's Digest?
If you find it useful to get your Reader's Digest in Dark Mode, then you can share the link on Facebook or share the link on Twitter. So your family, friends, or colleges can know about this handy free tool.