Do you find the background is too bright on your personal Gmail website? And you are looking for a way to activate the Gmail Dark Mode theme? Then you are on the correct help page, here you can read more about what is Gmail and how you enable Gmail Dark Mode. That is comfortable for your eyes at night and day.
What is Gmail?
Gmail is the online mail service to receive and send emails to your friends and family members. That with email storage of 15GB for free. The default Gmail theme is a bright white website, and that can hurt your eyes when you watching it too long. And for this, there is a solution to resolve this issue. That is to use a darker theme for your personal Gmail.
Solutions to get Gmail Dark Mode
Desktop web browser
A. Steps to enable Gmail Dark Mode on a desktop computer
Follow the instruction steps here below on how you can enable the Gmail Dark Mode on all web browsers:
Open your web browser
Navigate to the Gmail website
Log in if necessary on your personal Google account
When Gmail is loaded, select the gear icon on the top right corner of your Gmail screen.
Select Themes, and then on View all
Scroll down until inside this popup window, and you will see the theme "black rectangle"
Select the "Dark" theme.
And click on the blue Save button
And that's it! you have successfully enabled dark mode in Gmail.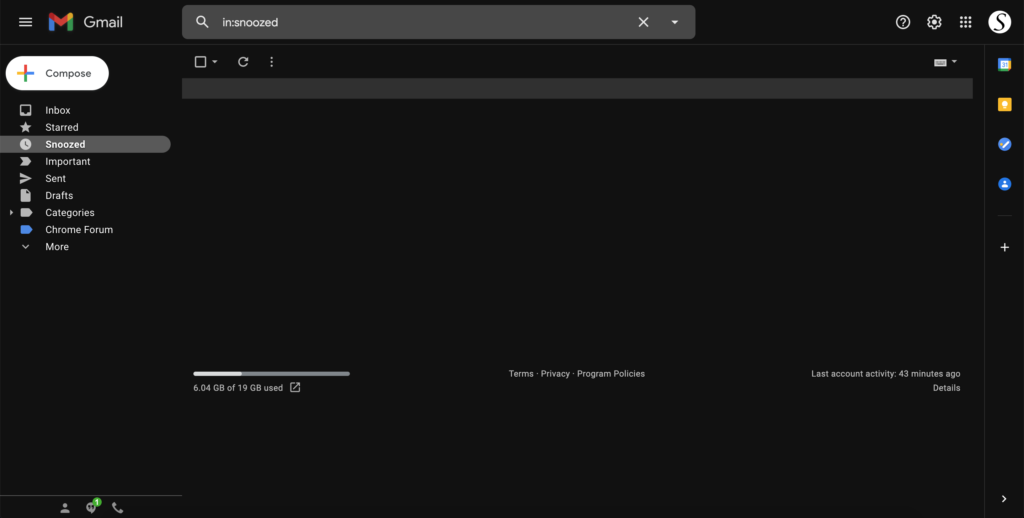 B. Customizable with Browser extension
On Gmail, the themes are limited of choice. But with the Turn Off the Lights browser extension you can choose up to more than 25 million colors, and find the great night background color that matched on your Gmail page. And with a single click on the switch, can you activate this Night Mode version, and also remove it.
Steps to Activate the Gmail Dark Mode website
Follow the steps here below on how do I turn on Gmail Dark Mode. And that on your personal web browser. So get a comfortable Dark Mode website:
Install the free Turn Off the Lights Browser extension for your favorite internet web browser
Installation completed, open the Turn Off the Lights Options page by clicking right on the gray lamp button. And choose from the right-click menu the item Options
Then select the Night Mode tab, and enable the first checkbox
Video Tutorial on how to enable Dark Mode
These steps in the video are the same for all major web browsers. That includes the following web browsers: Google Chrome, Safari (version 14 and higher), Firefox, Opera, and Microsoft Edge. If you have an issue or a bad experience, do not hesitate to contact us from the Turn Off the Lights support contact form. We are here to help you and get a great and comfortable web experience that is best for your eyes.
Mobile (Android and iOS)
These are the steps on how you can change your theme setting on Android and iOS:
On your phone or tablet, open the Gmail app
At the top left, tap Menu item
Tap Settings General settings
Tap on the item Theme
Choose Light, Dark, or System default
Conclusion
In conclusion, enabling Dark mode in Gmail is a quick and easy process that provides several benefits. Whether you're checking your email late at night or working on your computer in dimly lit rooms, dark mode can help reduce eye strain and improve your overall viewing experience. With this simple guide, you can easily switch to dark mode and enjoy all of the benefits that Gmail has to offer.
Hope that answer one of your questions about the Gmail Dark Mode:
Activate dark mode for Gmail desktop
How do I make Gmail Black?
Is there a dark mode for Gmail?
How to enable dark mode for Gmail?
How do I make Gmail Dark mode Android?
If you find it useful to get your Gmail in Dark Mode, then you can share the link on Facebook or share the link on Twitter. So your family, friends, or colleges can know about this handy free tool.