The Baidu website (Chinese name 百度) is a Chinese multinational technology company specializing in Internet-related services and products and artificial intelligence, headquartered in Beijing's Haidian District. It is one of the largest AI and internet companies in the world. The search engine can be also converted to the Baidu Dark Mode version. So you get a comfortable search experience for your eyes. And with no eye strain or heavy headaches after searing for a long time (on a bright website). That all with the free and most popular Turn Off the Lights browser extension.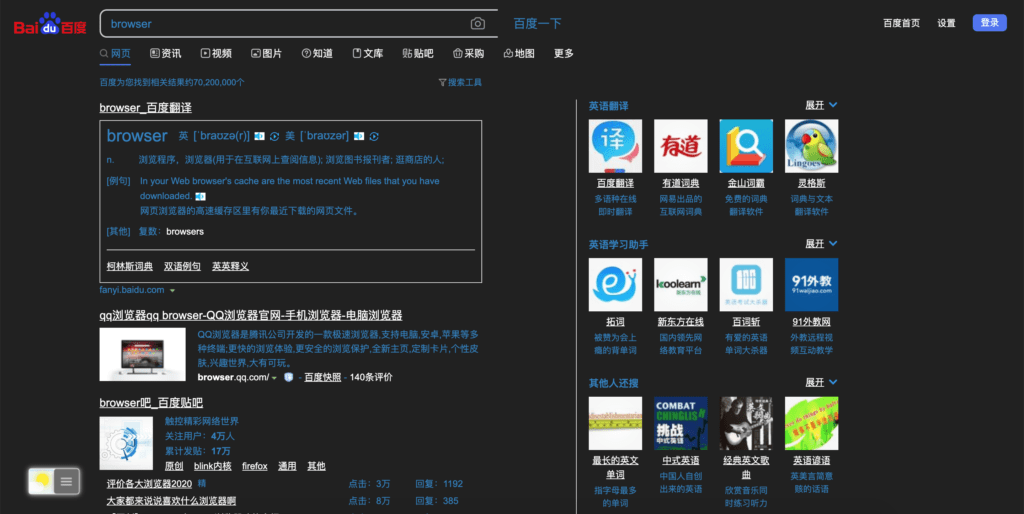 Activate Baidu Dark Mode with the free browser extension
For regular desktop internet users, you can get also this Baidu Night Mode version on your favorite web browser. That with the Night Mode option in the Turn Off the Lights Browser extension. Follow the steps here below on how to enable this free solution in your web browser:
Download the Turn Off the Lights browser extension
Click right on the gray lamp button and select Options in the menu item
The Turn Off the Lights Options page shows up and select the tab Night Mode
And enable here the Night switch or the long-press feature to activate the night mode on the current web page
In addition, you can customize the website background, text, and hyperlink colors. So you can make it personal to your night theme style.
YouTube video tutorial
How to enable Night Mode on any websites
How to activate Night Mode with Double-Click