Table of Contents
Introduction
Are you tired of squinting at your recipe books while cooking in the dimly lit kitchen? Do you find it challenging to read the fine print on ingredient labels, especially when you're trying to create a masterpiece dish? If these scenarios sound all too familiar, then it's time to embrace the magic of Cooks Dark Mode. In this comprehensive guide, we'll walk you through the world of Cooks Dark Mode, revealing how it can transform your culinary adventures into a delightful and hassle-free experience.
What is Cooks.com?
Cooks.com is a popular cooking and recipe website that provides a vast collection of recipes, cooking tips, and culinary resources for home cooks and food enthusiasts. The website offers a user-friendly platform where visitors can search for a wide range of recipes, from appetizers and main courses to desserts and beverages. Users can also submit their own recipes, share cooking experiences, and interact with the Cooks.com community. Additionally, the site features helpful information on cooking techniques, ingredient substitutions, and kitchen equipment. It has been a valuable online resource for those looking to explore new recipes, improve their cooking skills, and connect with others who share their passion for food.
What is Cooks Dark Mode?
Cook's Dark Mode is a revolutionary feature that has taken the culinary world by storm. It's a specialized display mode available in select kitchen appliances and culinary devices, designed to make cooking easier and more enjoyable. With Cooks Dark Mode, you can bid farewell to squinting, straining your eyes, or struggling to read instructions and labels in low light.
Imagine being able to effortlessly follow a recipe, adjust your oven's settings, and read the labels on your spice jars, even in a dimly lit kitchen. Cooks Dark Mode is here to make this dream a reality.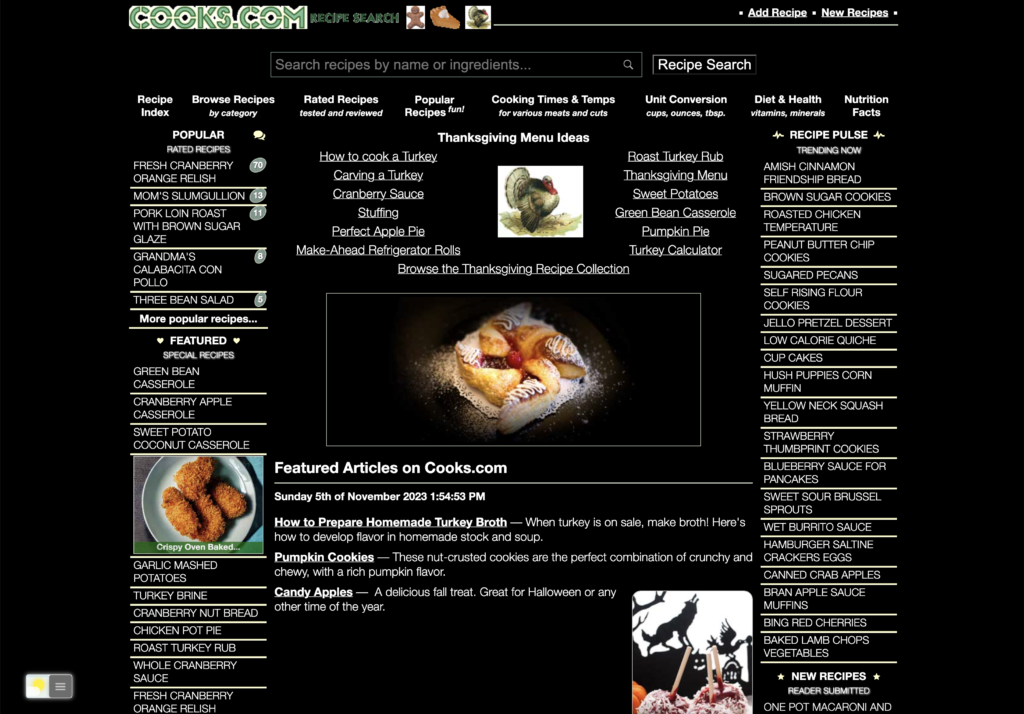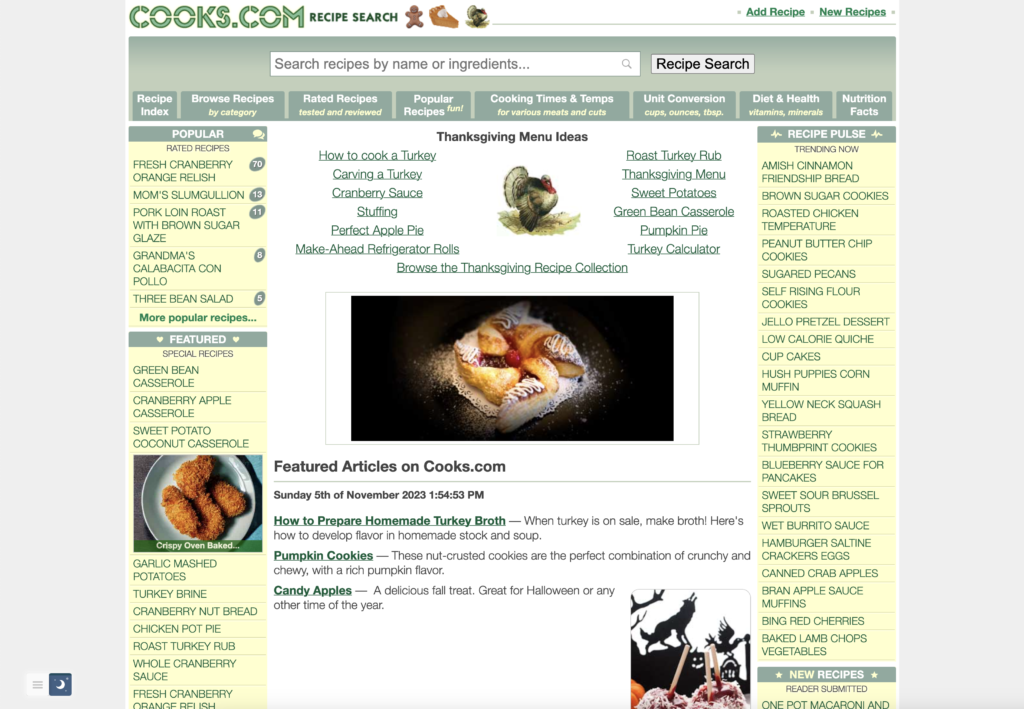 How to enable Cooks Dark Mode
Activating dark mode on Cooks is a simple process. For regular desktop internet users, you can get also this Cooks Night Mode version on your favorite web browser. That is with the Night Mode option in the Turn Off the Lights Browser extension. Follow the steps below on how to enable this free solution in your web browser:
Download the Turn Off the Lights browser extension
Click right on the gray lamp button and select Options in the menu item
The Turn Off the Lights Options page shows up and select the tab Night Mode
Enable here the Night switch or the long-press feature to activate the night mode on the current web page
The Benefits of Cooks Dark Mode
Cooks Dark Mode offers a multitude of benefits for cooks of all skill levels. Here's why you should consider making it an integral part of your cooking routine:
Enhanced Visibility: Cooking becomes a breeze with improved visibility, as the mode optimizes the display for low-light conditions. No more mistakes or mishaps due to poor lighting.
Ergonomic Design: Cooks Dark Mode is thoughtfully designed to reduce eye strain. It's easier on your eyes, ensuring you can focus on what matters most: creating delicious dishes.
Time-Saving: The enhanced visibility means you can work more efficiently, saving valuable cooking time. Say goodbye to fumbling around for the right ingredients.
Precision Cooking: For recipes that require precision, Cooks Dark Mode helps you get it right every time. No more overcooking or undercooking your dishes.
User-Friendly: It's intuitive and user-friendly. You don't need to be a tech wizard to use it. Just switch it on and enjoy your improved cooking experience.
Conclusion
Cooks Dark Mode is more than just a convenient feature; it's a game-changer for anyone who loves to cook. Say goodbye to squinting, straining, and frustration in the kitchen. With Cooks Dark Mode, your culinary adventures will be smoother, more efficient, and much more enjoyable. Upgrade your kitchen with this innovative technology and transform the way you cook. Get ready to enjoy every moment in your beautifully illuminated kitchen.
If you find it useful to get your Dark Mode for Cooks, then you can share the link on Facebook or share the link on Twitter. So your family, friends, or colleagues can know about this handy free tool.
FAQ
Does Cooks Dark Mode save energy?
Yes, it can help save energy as it reduces the need for additional kitchen lighting.
Are there any health benefits to using Cooks Dark Mode?
It reduces eye strain, making your cooking experience more comfortable and potentially preventing eye fatigue.
Can I change the background of this Cooks Dark Mode?
Yes, in the Turn Off the Lights Options page in the Night Mode tab you can change the background