Your web browser is the portal to get the latest information, news, shopping, watch videos, and even play games. And with a right-click menu can also do much more to control the current web page. Here an overview of the menu items of the Turn Off the Lights browser extension. The right-click menu is available for Google Chrome, Firefox, Opera, Safari, Maxthon, Yandex, Brave, Vivaldi, and Microsoft Edge.
1. Right-click menu on a web page
When you have the Turn Off the Lights browser extension installed in your favorite web browser. You have the option to enable the context menu feature. With this feature, it will show you a gray lamp menu item when you right-click anywhere on the web page.
The Turn Off the Lights browser extension can detect 2 elements, the first one is when you are on a page, and the second is when you are an HTML5 video player element. Then with a click on that menu item, it will dim the current web page. And highlight the video player if available on that web page.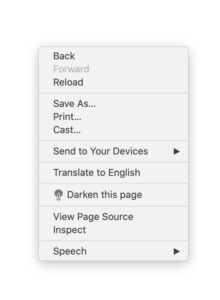 2. Browser lamp button
If the browser extension is installed in your web browser, you will see the gray lamp button in your web browser toolbar (or in the puzzle icon that depends on the web browser you are using now). When you right-click you will see the Turn Off the Lights right-click menu. Here you can get quick access to read the guide, send feedback, share the extension, and the link to see the latest YouTube videos.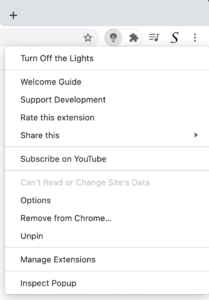 3. Detect the web page status
When you are on a website that can not implement this transparent dark layer, you will see this friendly message: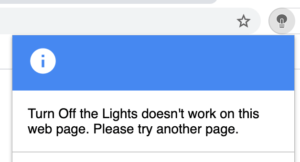 You can see this when you are on the web browser settings page, the internal browser's new tab page, and the extension gallery. Because for security reasons the web browser does not allow browser extensions to customize this web page. And it provides you below this message, a few handy shortcuts to learn or experience more in the Turn Off the Lights browser extension.
If you like the free and open-source Turn Off the Lights browser extension, that gives you the power and the best experience for your eyes. Please do not hesitate to support our work by making a small donation. And share this useful browser extension with your family, friends, and colleagues. And if you have any ideas, suggestions, or feedback. We appreciate it all to make it better for you as the user.