Today, dark mode is available for the Turn Off the Lights Blog! We updated our blog website design so that it matches the complete brand guideline of all our web pages. With now support for Dark Mode. When your Operating System (Mac and Windows) uses the dark appearance, it will automatically convert this website to Dark Mode. So you can read conformable the latest news and tip without the bright light. Our Turn Off the Lights Blog will match the style of your Operating System appearance setting. If your appearance is set to Light you will see the blog in Light theme, and if it is Dark then you see the Dark theme.
For the reader that is unfamiliar, Dark Mode is a dark background with the text in a light color such as white. Typical websites these days usually use a white background with the text color in black. But in low-light environments, the Dark mode theme will be more relaxing for your eyes and this can help to reduce eyestrain. And even reduce the power consumption on OLED screens.
Welcome to the Dark Side
We know many of you have been asking for this, and we are excited to bring dark mode to all our websites. That solves this issue, that users reading our website and navigating to our blog see a sudden too bright light and distracting the overall desired web experience.
Furthermore, the blog includes now a translucent navigation bar that stays sticky on the top. And a sidebar on the left for viewing the blog by categories or by following our social networks such as Twitter, Facebook, YouTube, etc.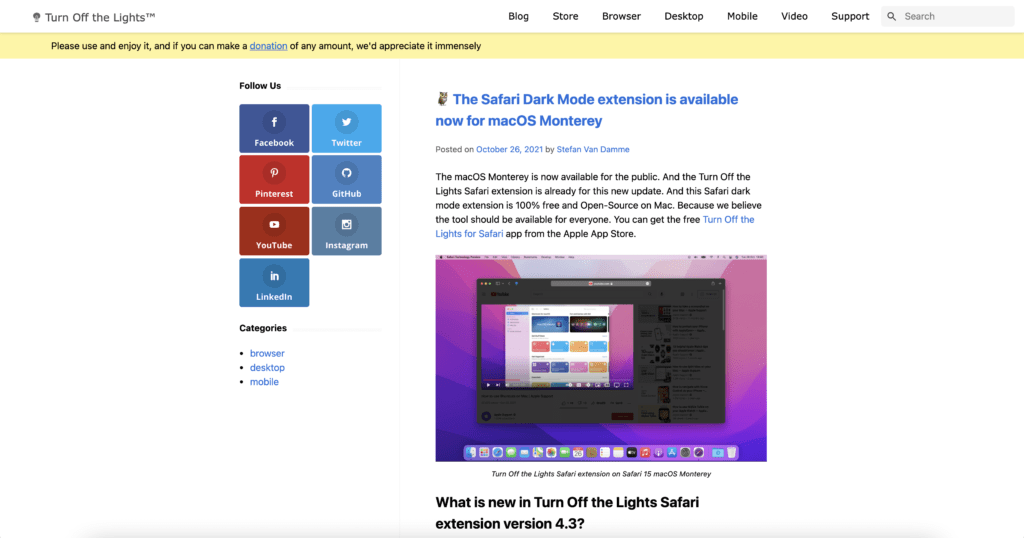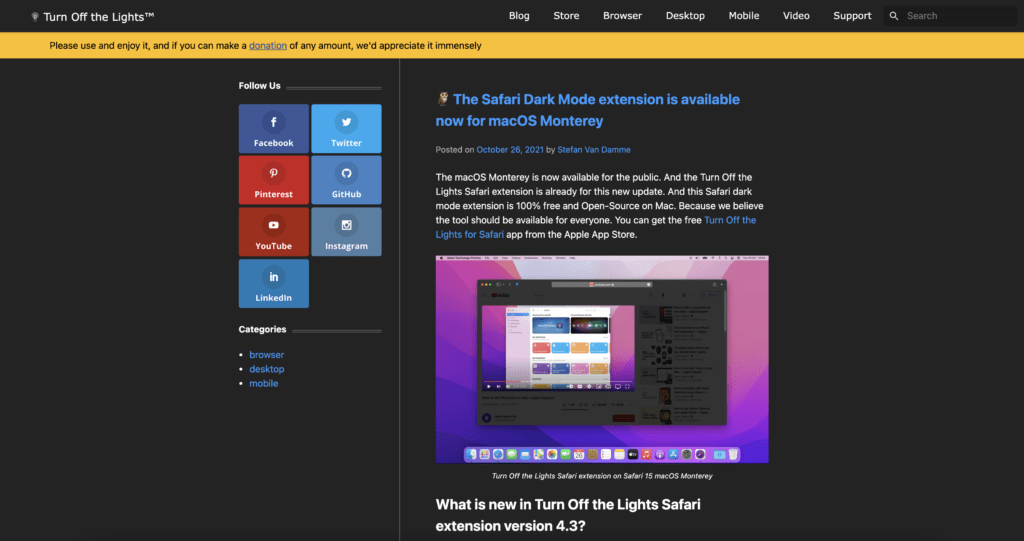 If you just reading this now, and want to get Dark Mode on all websites. Here is the solution to your question. Install the free and Open-Source Turn Off the Lights browser extension, it provides the handiest Night Mode feature to customize the website to your personal dark mode theme color. And do not forget to support our hard work by making a small contribution.