Table of Contents
Introduction
When you install the Turn Off the Lights browser extension you will see 2 new pages show up in your favorite web browser. That is the welcome page and the welcome guide page. On the welcome page is the helpful video instruction on how to use the Turn Off the Lights browser extension. And to learn more about how to use and enable this feature on your Options page.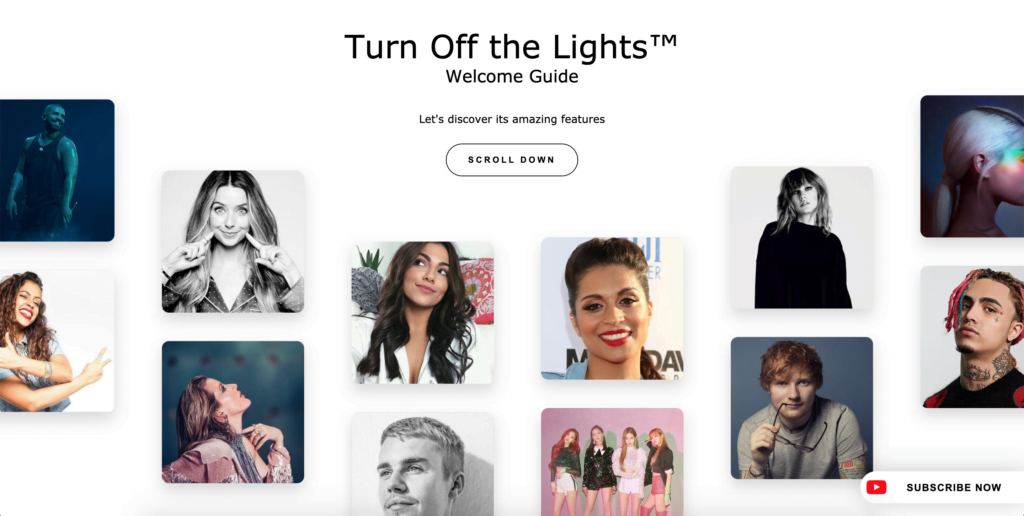 Welcome page to Mastering the Basics
To get started, it's essential to understand the fundamentals of the "Turn Off the Lights Welcome Guide." This feature allows you to control the lighting in your space effortlessly. Whether you're using it at home or in your office, mastering the basics is crucial.
Each web browser has its own welcome page. Those pages are:
That page provides you a brief information on how to dim the web page with a YouTube video.
Welcome Guide
The Welcome Guide is an interactive guide with animations that provide information about the use of the browser extension. It displays a live preview of the Night Mode feature and demonstrates how to enable it on the current web page. Additionally, it includes a section on customizing the mode to your personal style, allowing you to change the dark layer color, among other options. Each web browser has its own dedicated guide page. These pages include:
Conclusion
Hope that answers one of your questions about the welcome packet. That you received when you installed one of the browser extensions in your favorite web browser.
If you find it useful to get your Welcome packet for your web browser, then you can share the link on Facebook or share the link on Twitter. So your family, friends, or colleagues can know about this handy help page.
FAQ
Is the welcome guide in another language available?
Yes, the Turn Off the Lights Welcome Guide is available in more then54 languages. It chooses the language from your web browser and Operating System. So if you set your OS to Dutch, you will get the Dutch version, if it is Spanish the Spanish version, etc.
What If I Encounter Technical Issues?
If you encounter technical issues, refer to the Turn Off the Lights support form. So you will helped further with your issue. Please provide the necessary information to understand the technical issue you are experiencing, and share if possible a screenshot of the issue.
Do I Need an Internet Connection for This?
Yes, the Turn Off the Lights browser extension needs internet because most of the content is online. However, the Turn Off the Lights browser extension can detect also local HTML5 videos when it is on file:// or localhost page.
Can I Schedule the Lights to Turn Off Automatically?
Yes, you can schedule your lights to turn off automatically when you click on a hyperlink or open a new tab. See the Turn Off the Lights Options page in the Advanced Options tab. And enable the feature called Eye Protection.