Are you an enormous fan of dark modes. They are easier on your eyes and you save some computer's battery energy, while it makes the website more beautiful and pleasant at night. Therefore, Night Mode is the solution to this problem. The Night Mode is one of the Turn Off the Lights Browser extension features, that can converts the website from a light to a dark user interface. You will get a Google Chrome Dark mode that is more customized than the website own theme.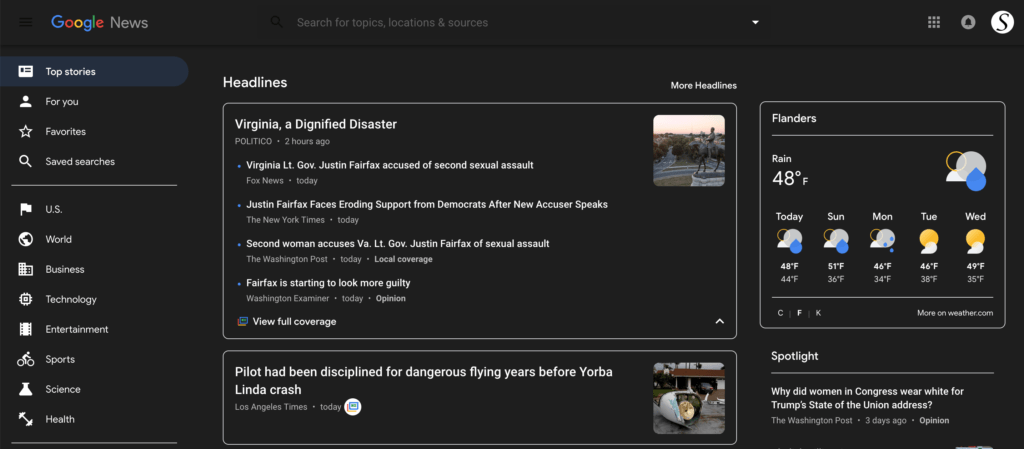 Solution on how to activate the Google Chrome Dark Mode
Go to this website and install the most popular Turn Off the Lights Chrome extension:
https://chrome.google.com/webstore/detail/turn-off-the-lights/bfbmjmiodbnnpllbbbfblcplfjjepjdn
Click right on the gray lamp button, and select Options in the right-click menu
You see a new tab show up in your Chrome tab strip and select the tab Night Mode
And enable the first checkbox to activate the Night Mode switch feature. That converts the website from his day to a night theme.
Now on every website, you see a small night switch. And with a single click, it converts the website in a dark interface. Want to return back to the regular website design? Click again on the switch, and you get back the normal design.
Night Customizable Options
Above all, in the Turn Off the Lights Options page, you can customize each color in the Night Theme, which includes the background, the text, and hyperlink. In addition, there is one single night profile for all websites. That makes the website authentic and coherent together as in the regular light white website stylesheet.
Also, you can customize the Night Mode from the new and useful double click menu. When you click double on the gray lamp button, you will get a popup window to customize the current dark layer. But when you tap on the 2nd icon (the Night Mode), you can control live his background, text, and hyperlink.
---
Do you found technical, factual and grammatical errors on the Turn Off the Lights website?
You can report a technical problem using the Turn Off the Lights online technical error feedback form.
---