Are you looking for a free and easy solution to get a Facebook Dark Mode website? Do not look any further, because, with the powerful Turn Off the Lights browser extension, you can convert any website in a dark theme. And you can easily customize the background, the text color, and the hyperlink color to your own appropriate dark color. That includes also other websites such as YouTube, Google News, Dailymotion, etc.
And many more great features in the Turn Off the Lights browser extension to get you the best web experience. Such as the YouTube AutoHD, Atmosphere Lighting, Mouse Volume scroll, etc.
The solution on how to get dark mode on Facebook
Facebook Website option
Since late August 2020, the Facebook website does have the option to get the official Dark Mode version. Follow the easy instruction steps here below on how to activate this:
Go to the Facebook website, and log in your account
Then on the top right of your web browser screen click on the arrow key
That will open a popup panel, and provide you the Dark mode toggle switch. And with a single click, it activates the Facebook Dark Mode version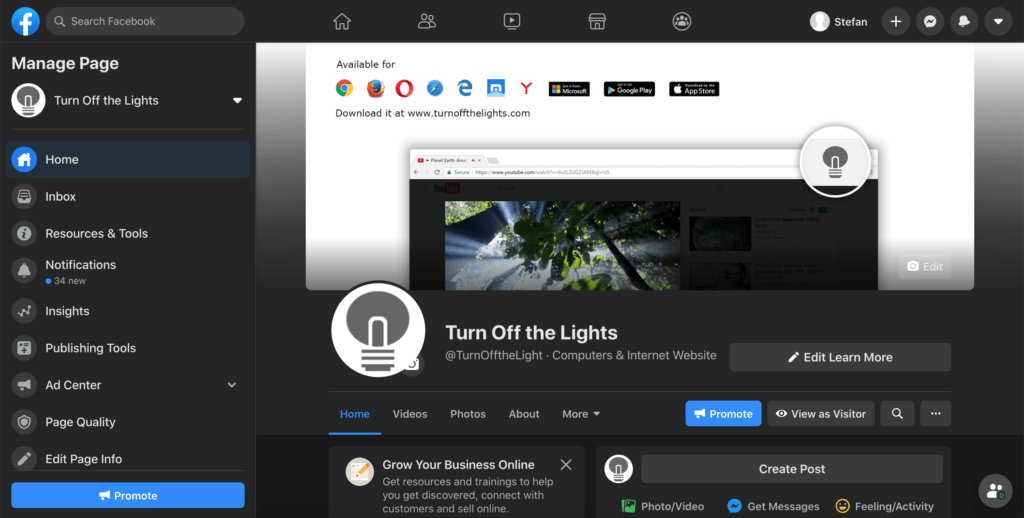 To more customize option
Here below you can read the instruction steps on how to get dark mode on Facebook that is more customized to your own personal and business style. That the Facebook page in a dark theme that is more comfortable for your eyes late at night:
Install the Turn Off the Lights Chrome extension from the Chrome web store
Open now from the three dots menu the Extensions item, search for the extension Turn Off the Lights
And click on the blue Options link below this extension name
When the Options page is open, click on the Night Mode tab
And enable the first checkbox on that tab page
YouTube video tutorial
Helpful video tutorial on how to get dark mode on Facebook enable.
How to enable Facebook Dark Mode
How to enable Night Mode on any websites
How to activate Night Mode with Double-Click