Now in Turn Off the Lights browser extension version 3.1 or higher you have the possibility to shows the Night Mode switch between a chosen timestamp. For example, you can make the switch visible only at 10 pm and hide it back at 8 am. You can enable this feature in the Turn Off the Lights options page and change it to your chosen timestamp.
Night Mode is a feature from the Turn Off the Lights browser extension to convert the website to your own personal dark theme. That from a single click on the night switch, or from the Double Click menu on the gray lamp button. And you can do that on any open website such as on YouTube.
Night Mode Timestamp
When you open the Turn Off the Lights Options page, you can change the time between activating the dark theme on a website. In the options page at the "Advanced Options", you see two date-time boxes 24 hours system. One is when it is going to starts, and the other is when to stop using this feature.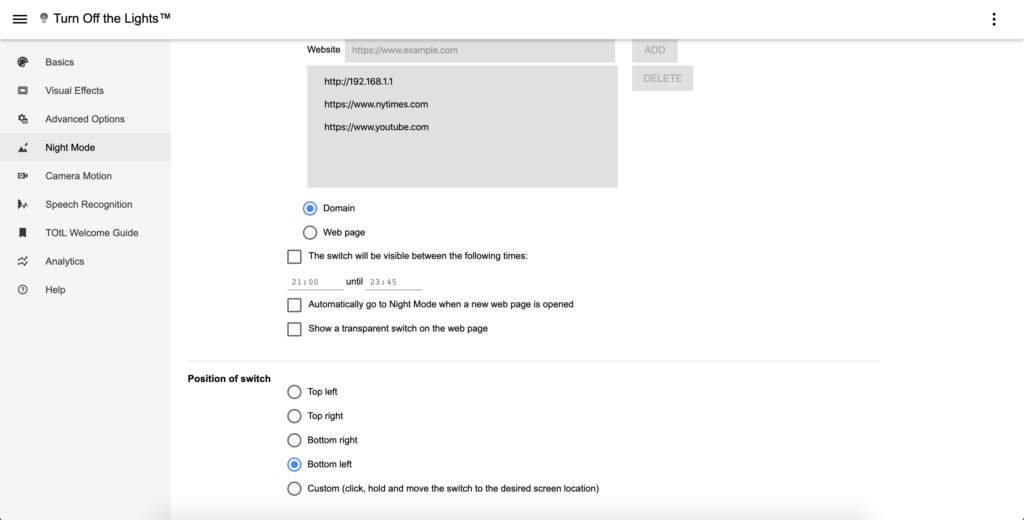 Click right on the gray lamp button, and select Options from the context menu
When the Turn Off the Lights Options page shows up, click on the Night Mode tab
Scroll to the bottom of the web page, and enable the checkbox "Tw switch will be visible between the following times:"
Choose your time, and now you see the switch only between that time range
YouTube video tutorial