Are you wondering if there is there a Best Facebook Night Mode Chrome extension? Yes, there is one that you can easily darker the website on Facebook and beyond that social network. With the help of the free and Open Source Turn Off the Lights Browser extensions, you can convert all websites to a darker theme. And get your personal night mode on all websites.
How to activate the official Facebook Dark Mode
In the latest new Facebook website, you have now the option to get your dark mode version. Follow the steps here below on how to activate this in your web browser: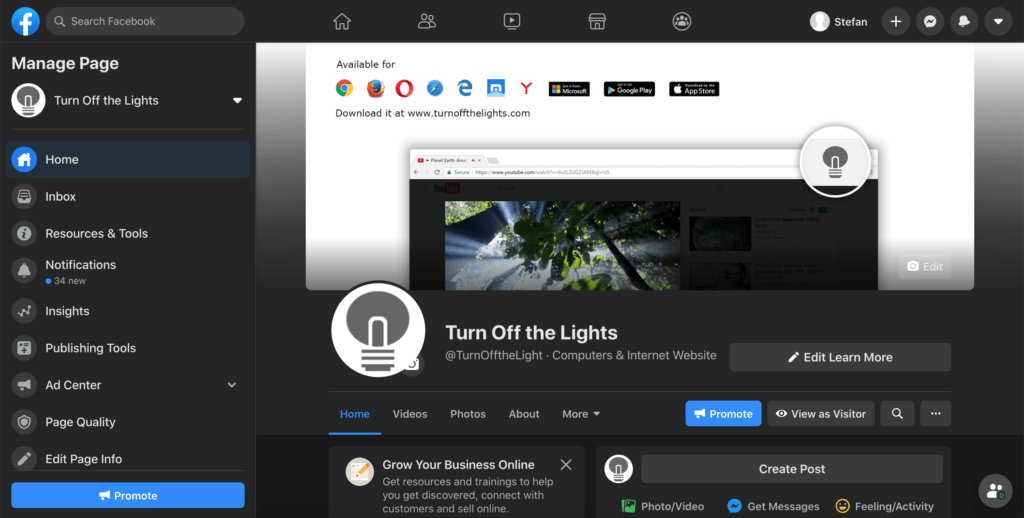 Open the Facebook webiste and login in your account
Click on the arrow key that you can find at the top right of your screen
A popup window show up, and in this panel you see a toggle switch to enable the Dark Mode version. And that is it
How to activate the customizable Facebook Night Mode (with a FREE Browser extension)
How to get Facebook Night Mode 🌙 🌑 feature? While you do not need to install for each website a new Chrome extension. Everything that you need can be done with this free Turn Off the Lights Chrome extension. It is the only and ultimate tool for all websites. And where you as the user can customize the Night Mode color on the website. Such as the background color, text and hyperlink color. You will be more relaxed and enjoy the web better with the dark color than the regular white background. Here below you can read the instruction steps to enable the Night Mode theme:
Install the Turn Off the Lights Chrome extension from the Chrome web store
Open now from the three dots menu the Extensions item, search for the extension Turn Off the Lights
And click on the blue Options link below this extension name
When the Options page is open, click on the Night Mode tab
And enable the first checkbox on that tab page to see the night switch on all web pages
Now you can enjoy your darker version of the web. And get night mode on Facebook that is customized by your fingertips.
YouTube video tutorial
Helpful video tutorial on how to enable the Facebook Night Mode feature.
How to enable Facebook in Dark Mode
How to enable Night Mode feature
Conclusion
Hope that answer one of your questions about the Facebook Night Mode:
Activate night mode for Facebook desktop
How do I make Facebook Black?
Is there a night mode for Facebook?
How to enable night mode for Facebook?
How do I make Facebook night mode Android?
If you find it useful to get your Facebook in night Mode, then you can share the link on Facebook or share the link on Twitter. So your family, friends, or colleges can know about this handy free tool.