It is time to move away from the Dark Reader browser extension. Most users are already doing this today. Because it is all out of innovation and out-pricing. You can get much more in place with other software that is really 100% free and Open-Source. And do not forget about the lack of Dark Reader support service to its users. Those users who really want beginner help on how to get this extension working.
At Turn Off the Lights, we want everyone to enjoy the best video and web experience. That is completely free, gratis, zero dot zero, for all modern web browsers. And we are loyal to helping everyone, even if you did not donate.
What is Dark Reader?
Dark Reader is a browser extension that allows users to apply a dark mode or dark theme to websites and web pages. But it is important to note that not all websites support dark mode and some may appear distorted or broken when using Dark Reader. Also, it is worth noting that some users have reported that the extension may cause performance issues on certain websites or make it harder to read certain content.
Stop using, and Move away from Dark Reader Now
Unfair Price for the users
If the Dark Reader is for everyone, why is the Dark Reader Chrome extension free to add? But it does not provide that for Safari users. Dark Reader asks for money for his Safari extension. And that is even not at the lowest price amount such as 0.99$. But it asks his Safari users a high price of 4.99$ (now even 5.99$) for a possible "Open-Source" software. In reality, the Dark Reader Safari extension is not Open-Source. That is a daring move. And that money goes all straight to the developer pocket of that Safari extension and not to the Open Source foundation.
Even the website of Dark Reader does have ORG as the domain level. It should be COM as commercial. As it breaks his promise to the users as the developer said on his website "Dark Reader is free". But it is not true, and it is all about the money because of the highest user base on that iOS platform (popular iPhone devices).
Most users are also wondering about the source code and safety of using the Dark Reader browser extension, this is what one of the GitHub users said:

Alexander Shutau is a Belarus developer. Belarus, officially the Republic of Belarus, is a landlocked country in Eastern Europe. It is bordered by Russia and Ukraine. The Belarus developer's reaction:

The developer does not support free and Open-Source work for his Safari users. The Dark Reader for Safari is closed-source and has a huge premium price.
Furthermore, the Safari extension does not get regular updates even for more than years with no update. But still, it asks for huge money for Mac and the iOS platform.
Make web browser very Slow and Tracking
Dark Reader makes web browsers slow when the extension is active. It is known for its bad performance in Chrome and Firefox and many other web browsers. Furthermore, you are going to have nightmares when opening a web page with a lot of images and pictures. Because it inverted images on the web. That makes the web page looks awful to see.
Furthermore, there are a lot of affiliate networks that are there to track you such as this Honey shopping page. That is linked to the Plugins that collect your data. This means selling your data is hardly necessary to stay afloat. That is according to the Reddit post.
Dark Reader annoying promotes you to get the VPN from his VPN affiliate network by his tracking link. The home page is a bunch of advertising and affiliate network banners. As the website should be better to have a DOT COM domain. And not as an ORG domain for as an organization, and that is not what you see and get.
The Turn Off the Lights is more energy-efficient than Dark Reader. Turn Off the Lights uses up to 30% less CPU and 80% less RAM than Dark Reader. This can help improve the performance of your device and save battery life.
Dark Reader is not an individual but a corporate company
On 31 August 2021, the author created a commercial company with the new name "Dark Reader Ltd". Why a Limited company, and why not start a nonprofit organization?
Next in April 2022, the author changed the Apple store developer name to "Dark Reader Ltd". This means it is not free. And it is a corporate business that asks for money from its users. To get the Safari extension, while it is still asking for "donation" money on his "Open Collection" funds? While it is not free for Safari.
Dark Reader Safari extension increased its price in October 2022 from 4,99$ to 5,99$.
Bad Support and struggle for help
Dark Reader
Dark Reader is lacking in helping its users in need. They just abandoned his users that ask for help as you clearly can see on Twitter. With a high premium price, you expect customer support. But there is no care for you if you use the Dark Reader app, only the developer wants your money.
Turn Off the Lights
At Turn Off the Lights, we take care of our customers. We build the browser extension with simplicity in mind and a powerful tool on the web. This accessibility tool has set the first standard of the internet since 2009. And with the best help platform. When you install it for the first time the browser extension you will get a helpful and complete welcome guide to learn the basic features. Such as how you can enable the Night Mode feature on all websites. And improve the experience on your selected websites.
When you install for the first time Turn Off the Lights browser extension, it keeps it simple for new users. That is the lamp button dims the web page and highlights the video player. However, if you are looking for the Night Mode (convert all websites from light to your dark theme), you can enable this feature on the Turn Off the Lights Options page. This does ignore night mode styling the video controls in embeds such as on YouTube, Vimeo, Dailymotion, Youku, etc.
And do not forget the tutorial YouTube videos to explain how you can enable and disable a certain useful feature. So you get the delighted web experience. All Turn Off the Lights browser extensions are free and Open-Source, you can browse the code on GitHub. That is also for the Safari extension on Mac and iOS.
At last, you can always contact us here on this contact form, and provide your feedback, suggestion, or question for help.
Tutorial YouTube video
How to enable Night Mode in Turn Off the Lights browser extension
Top 10 features in Turn Off the Lights browser extension
Conclusion
Turn Off the Lights Chrome extension is one of the first and best Chrome extensions released on 15 December 2009 to get a comfortable experience on the web.
And the most customizable Night Mode ever for all websites that you can enable on the Turn Off the Lights Options page.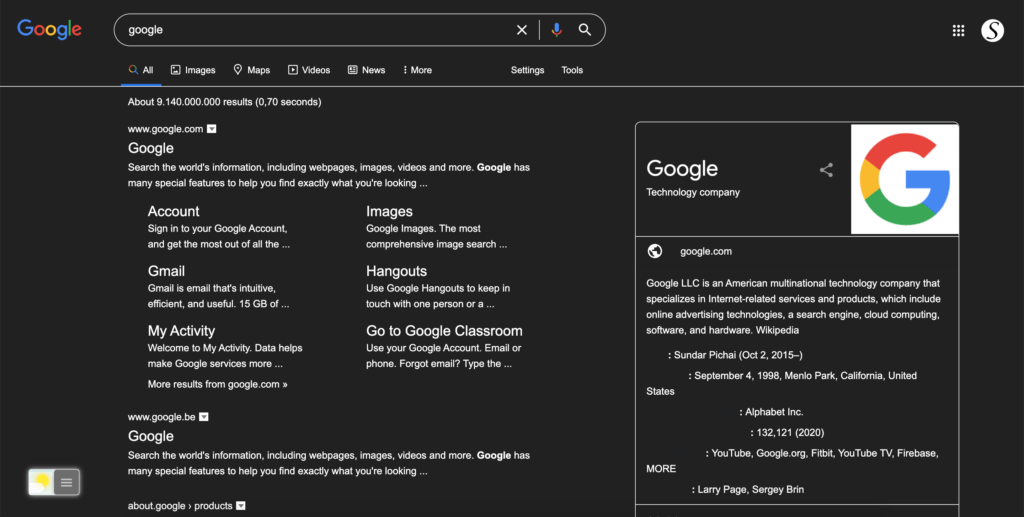 How to migrate from Dark Reader to Turn Off the Lights?
That is very easy. Turn Off the Lights browser extension is available for all modern web browsers such as Google Chrome, Safari, Firefox, Opera, Yandex, Vivaldi, Brave, Naver Whale, and Microsoft Edge. But Turn Off the Lights is free and available for mobile web browsers such as Firefox, Samsung Internet (on Android), and Safari web browser (on iOS).
Download the FREE Turn Off the Lights browser extension for your favorite web browser
And you see the welcome guide to read all the basic functions
Open a website, and with a single click on the gray lamp button, it dims the web page
| FREE Available for these platforms | Turn Off the Lights | Dark Reader |
| --- | --- | --- |
| Google Chrome | YES | YES |
| Safari | YES | NO * (This costs money. And it is not universal for Mac and iOS. It is not Free and Not Open Source on Safari desktop and iOS mobile. You pay 2X that price amount) |
| Firefox | YES | YES |
| Opera | YES | YES |
| Microsoft Edge | YES | YES |
| Yandex | YES | NO |
| Brave | YES | NO |
| Vivaldi | YES | NO |
| Cốc Cốc | YES | NO |
| Naver Whale | YES | NO |
| Tor | YES | NO |
| Android | YES | NO |
| iOS | YES | NO |
| Samsung Internet | YES | NO |
| Windows Mobile | YES | NO |
Browser extension availability
If you need any professional help, you can contact us on this support page. And on the bottom of the web page, you can choose email or live chat support. We are here to help our customers to get the help they need for the best web experience and to protect their eyes at night. And at last, feedback and suggestion is also welcome to improve this experience.
Download it Now – Turn Off the Lights
Take control of your browsing experience with the Turn Off the Lights extension! Click the link to download now and start enjoying a more immersive and comfortable browsing experience.
FAQ about Dark Reader
Is Dark Reader free?
No. The developer asks for his Safari extension at a high premium amount and with no customer support. However, you can get Dark Mode for all websites for free with the Open-Source Turn Off the Lights Safari extension.
How do I get rid of the dark chrome reader?
To remove this bad Dark Reader Chrome extension. Open your Google Chrome web browser, and navigate to this chrome://extensions page. Search for the official Dark Reader and click on the button "Remove" button.
Is there a dark mode for Safari on iPhone?
Yes. You can use the free "Turn Off the Lights for Safari". That is available for iPhone and iPad users. Here you can choose 3 profiles: a) dimmer the screen a focus on the video player b) the Night Owl profile to convert all websites in your personal dark mode theme c) the Eye Protection profile to add a yellow tint layer on top of all the websites.
How get free Dark Reader for Safari iOS 15?
You can get the Dark Mode for all websites for free on the Turn Off the Lights Safari extension in the Apple App Store. Since iOS 15 it supports the Safari Web Extensions technology. So you can install the Turn Off the Lights Safari extension on your iPhone and iPad with iOS 15. The Turn Off the Lights browser extension is Open-Source for all web browsers.
Is Dark Reader safe reddit?
There was a malware version online from the Dark Reader browser extension that tracked and gave you malware on your web browser. With a huge download number for that vulnerability' dangerous file. It is recommended to install only browser extensions from the official store link.
Is Dark Reader privacy safe?
If you are asking if is Dark Reader safe? In reality, all Dark Reader browser extensions do track the website URL you are visiting to get a Dark Mode theme. And that can see your personal data, browsing history, etc.
How to use Dark Reader extension?
To use a browser extension you need to install it from the web browser gallery. Press the add button. Then the button will be added to your web browser toolbar.
Is Dark Reader a good extension?
How to solve Dark Reader white flash?
If you are seeing a white Flash Between Page Loads While Using Dark Reader. Then it does not have the correct API to load the new Dark Mode before you open the web page. With the Turn Off the Lights browser extension, it instantly adds your Night Mode theme before you see the first item on that web page.
Summary

Author Rating
Software Name
Operating System
Google Chrome, Firefox, Opera, Safari, Yandex, Brave, Vivaldi, Microsoft Edge, Naver Whale
Software Category
Price
Landing Page