You are looking for the best iOS Safari extensions for iPhone and iPad in 2021? Then this help page provides you the list of extensions you need to use.
What is a Safari extension?
Browser extensions are a small useful option to extend your web browser functionality. That makes you navigate better and experience a comfortable web browsing experiencing. And is now available for iOS 15 users.
If you do not know How To Enable A Safari Extension on iOS 15 you can check that help page article. So you know how to open the new world in your Safari web browser. And here below is the list of the best iOS Safari Extensions for iPhone and iPad.
Best iOS 15 Safari Extensions
Here is a brief overview of the best iOS Safari Extensions for iPhone and iPad that you need to use.
Turn Off the Lights for Safari
1Password
Pinterest
Grammarly
Adblock Plus
Aerial View Tab for Safari
Zoom for Safari
Ambient Aurea for Safari
Date Today for Safari
New Tab for Safari
1. Turn Off the Lights for Safari
It is one of the most popular browser extensions since the year 2009, which makes it easy to dim the web page content and highlight only the video player on that page. And provide an option to convert all websites in Dark Mode thanks to the Night Mode feature. It is so powerful and you can adjust the Night Mode to your personal color choice. Such as the background, text, hyperlink, and buttons colors.
The best of all is that the Safari extension is 100% free, and Open-Source.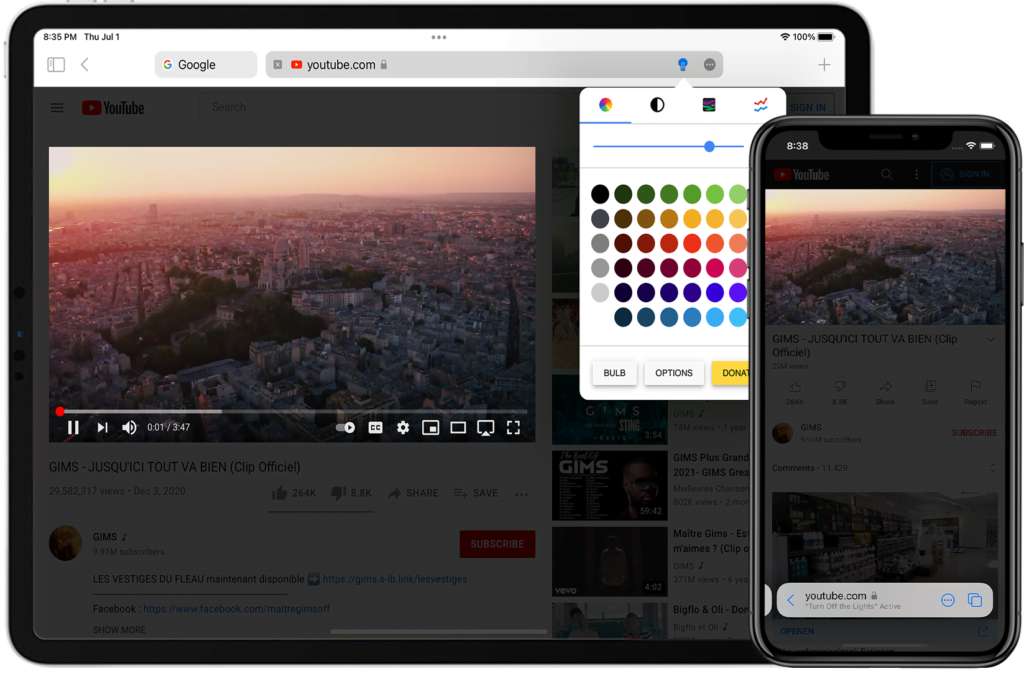 2. 1Password
It is the best mobile password manager application to secure all your passwords, notes, and software license. That can not be missed in the list of Best iOS Safari Extensions for iPhone and iPad. As it is featured many times on Apple App Store. As a useful utility tool for your passwords.
3. Pinterest
The Safari extension can pin an image from the web and create collections of a certain topic. That makes it easy to manage your everything in one central place.
4. Grammarly
The tool that helps you writing to correct sentences and spelling. And know the feeling of what you are writing.
5. Adblock Plus
This is to stop annoying ads elements to be visible on the web. And block the tracker follow you on the internet.
6. Aerial View Tab for Safari
The most beautiful aerial view video landscape you will see each time you open a new tab. And with a search box in the center of the web page. To instantly start the day by searching on the web.
7. Zoom for Safari
Get a comfortable reading experience on all websites. Here you can manage the zoom of the web page, and adjust to your preferences. Furthermore, there is an option to add a magnifying glass to zoom in on a certain area of the web page. And that still keeps the current zoom level.
8. Ambient Aurea for Safari
The photo tool is to create a photo gallery of all the images on that web page. So you can easily navigate to the next and previous image with the arrow keys on your screen.
9. Date Today for Safari
Add an analog clock in your Safari toolbar, so you can see the current time. But when you tap on it, you can a complete date. And with a single tap, you can get the timestamp in your email.
10. New Tab for Safari
The new tab Safari extension replaces your default home page with a beautiful place to access fast your favorite shortcuts. And to see the current day and time.
Conclusion about Safari Extensions for iOS 15 and iPadOS 15
Now you know the Best iOS Safari Extensions for iPhone and iPad. The Safari extensions are available for iOS 15 and higher.
---
Did you find technical, factual or grammatical errors on the Turn Off the Lights website?
You can report a technical problem using the Turn Off the Lights online technical error feedback form.
---