Turn Off the Lights | Browser - Black Opacity Layer
These are usually a lot of interference when we wathcing online videos. It influences our viewing experience. However, 'Full Screen' extension is too exclusive to work while we are watching video. That's why a simple light off around the video player makes the video more enjoyable then ever before.
Colors
Don't you like the black color as a layer in the Turn Off the Lights browser extension? No worries because you can choose between thousands of different colors in the color picker window. That makes this extension more personal in feeling, and look.
Background
What if you want you a wallpaper as background. That is now also possible, you can use one of the sample wallpaper in the extension or you can paste self the URL of that image in the URL textbox.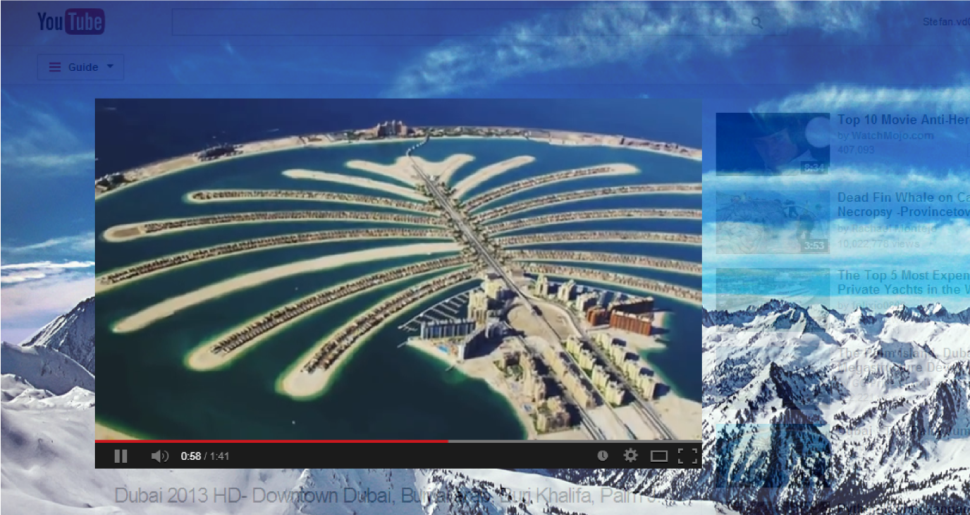 Default in Turn Off the Lights you have the possibility to choose one of the five background images that is included in the extension. You can choose for a cinema curtain, Africa sunrise, mountains, underwater and green forest. Still doesn't find a good wallpaper, then you enter self in the textbox your own URL to that wallpaper online.
Opacity
Want to see only the video player when you click on the lamp button and doesn't want to be distract of the elements around the video player? Then increase the opacity of the layer in the Turn Off the Lights options page. When you increase the opacity of the layer, it will make the color or background image more visible. And it will hide the other website elements below the Turn Off the Lights layer.
Gaussian Blur
This is where it all gets very exciting. A new feature that add a blur filter on top of the website and that doesn't blur the video player. So it is more simpler to find the player on a web page, hide all the distractions around the player.

Where can I enable this feature?
Everything can be setup in the Turn Off the Lights options page. Open the extension overview page and click right of the name Turn Off the Lights on the link "Options". Then it's open automatic the option page of this extension. And just below the preview window you see the checkbox "Blur", enable the checkbox and you have now the blur filter effect enabled.
The customizable options in the browser extension make Turn Off the Lights even more brilliant. Because they're designed just for one browser, they work for all browsers. For Google Chrome, Firefox, Safari, Opera, Maxthon and Internet Explorer. Check self out by downloading this amazing Turn Off the Lights extension for your favorite browser.