There is a new web browser on the internet market. The Microsoft Edge web browser is moving from its EdgeHTML engine to the Chromium engine, which is the browser engine of the Google Chrome web browser. So the most popular Turn Off the Lights for Microsoft Edge will use now the Chrome extension version in that new web browser.
However, the current Microsoft Edge extension use already the same code as in the Google Chrome extension and with a bridge file to communicate to the Microsoft Edge web browser. But Microsoft has this to say to his Windows 10 internet users:
"Ultimately, we want to make the web experience better for many different audiences. People using Microsoft Edge (and potentially other browsers) will experience improved compatibility with all web sites, while getting the best-possible battery life and hardware integration on all kinds of Windows devices."

Joe Belfiore – Corporate Vice President, Windows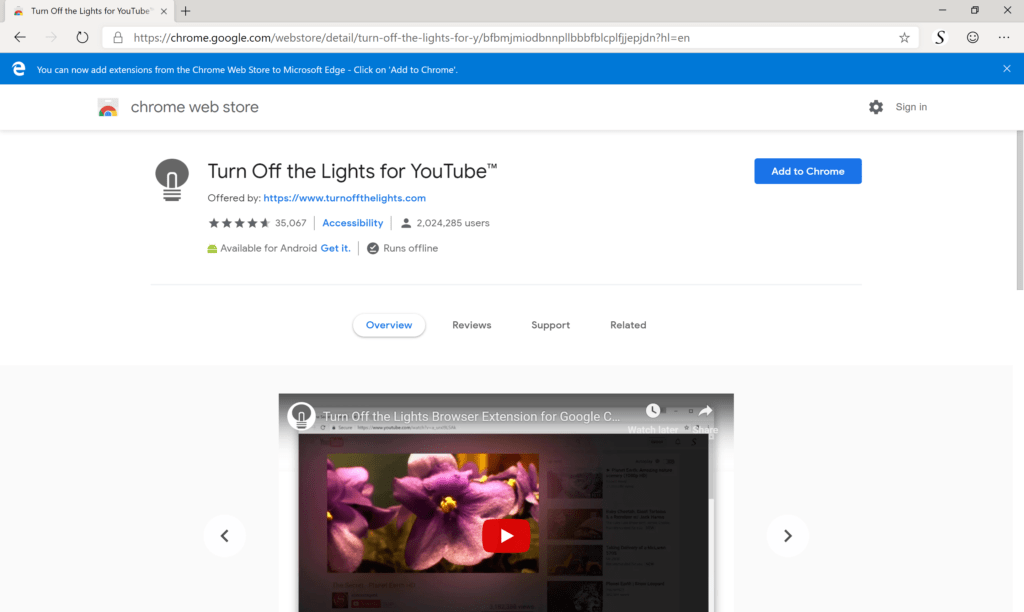 You can try now the new Microsoft Edge web browser. Also, you can install now the latest Turn Off the Lights Chrome extension in the Microsoft Edge web browser. It is more powerful than ever before for your Chromium web browser.
Benefits of the Microsoft Edge Extension to the Chromium Extension platform
In addition, with one single and the same code, you have always the latest extension version in your favorite web browser. That includes Google Chrome, Opera, Yandex, and the Microsoft Edge web browser.
Get fast the latest update and improvements
Better performance on your web browser
Enjoy all the nifty and latest night mode experience
Also, want to install the Turn Off the Lights Chrome Web Store extension on Microsoft Edge for Windows and macOS?
To install the extension
Provide consent

Open Microsoft Edge.
Go to edge://extensions or click Setting and more (…) > Extensions.
Enable Allow extension from other Stores.
Accept the disclaimer.

Install extension

Open the Chrome Web Store
Find and select the extension you want to install.
Click Add to Chrome.
Some extensions will let you know if they need certain permissions or data. To enable, click Add extension.
Above all, if you like our work, do not forget to rate the Turn Off the Lights Chrome extension to 5 stars. And make a small donation to support the development of our free and Open Source Browser extension.