The "Turn Off the Lights" browser extension is a popular tool that allows users to dim the background of a web page, making it easier to focus on the content of the page. The extension is available for a variety of web browsers, including Google Chrome.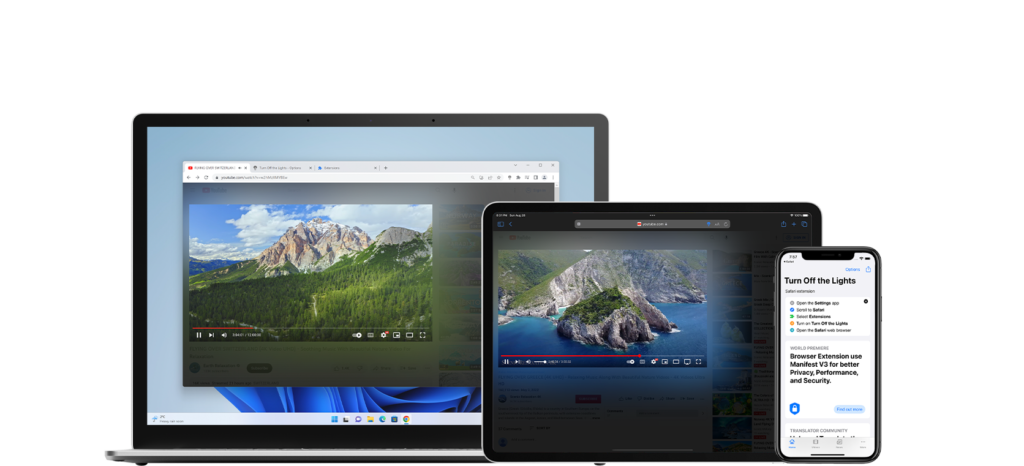 Chrome Extension Beta Launch
We are excited to announce the launch of the public beta version of the "Turn Off the Lights" Chrome extension. This beta version is now available for anyone to download and test in their Google Chrome web browser. We have also made improvements to the extension's performance and stability. That by using now the Chrome extension Manifest V3 technology. The extension has been optimized to use less memory and run more efficiently, resulting in a faster and smoother browsing experience.
A beta version of a product is a pre-release version that is made available to the public for testing and feedback. Beta versions may contain bugs or unfinished features and are not yet considered stable enough for general use.
Download Turn Off the Lights Chrome Extension Beta
You can download the "Turn Off the Lights" Chrome extension beta from the Google Chrome Web Store by searching for "Turn Off the Lights" or by clicking the following link:
https://chrome.google.com/webstore/detail/turn-off-the-lights/jfmfcimcjckbdhbbbbdemfaaphhgljgo
You can install the Turn Off the Lights Chrome extension beta on any Chromium web browser. On Google Chrome Stable, Google Chrome Beta, Google Chrome Dev, Google Chrome Canary, Chromium, Microsoft Edge Stable, Microsoft Edge Beta, Microsoft Edge Dev, Microsoft Edge Canary, Opera, Opera Next, Opera GX, Brave, Brave Beta, Vivaldi, Snapshot, Maxthon, Cốc Cốc, Yandex, and Naver Whale.
Note: It is recommended for daily use to use the Turn Off the Lights Chrome extension stable version. This Chrome extension beta version may not be as stable as the official version and may contain bugs or unfinished features. It is important to note that installing the beta version of an extension may cause some issues or even break certain features in some websites.
What is new for you to test in the Chrome extension beta?
Night Mode improvement
Improvement the Options page, which opens faster and with no annoying popup each time
Improvement mobile support
Improvement Picture-in-picture (PiP) mode
Improvement Atmosphere Lighting Vivid mode
Improvement of the Double-click mini settings panel
A brand new Turn Off the Lights beta web page
To find all the latest Turn Off the Lights betas, you can find it also on our new beta web pages. A dedicated platform to discover and test our latest applications before they are officially released. The beta web page is designed to provide users with early access to new features and improvements and to gather valuable feedback from our community of users.
The beta web page is easy to navigate and provides detailed information about each beta application, including screenshots, descriptions, and instructions for installation. Users can also submit feedback and report bugs directly from the beta web page, making it easy for developers to track and respond to user feedback.
Feedback
We value your feedback and suggestions, so please do not hesitate to reach out to us with any issues or ideas you may have. You can contact us through our website or social media channels.
As an Open-Source project, "Turn Off the Lights" relies on the support of its community to continue its work. If you find our extension useful, please consider making a small donation to help us continue to improve and maintain the extension. Your support is greatly appreciated.
Conclusion
In conclusion, the "Turn Off the Lights" Chrome extension beta version is now available for download on the Google Chrome Web Store. We invite you to test the extension and provide feedback and suggestions. Your support through donations will help us to keep the extension updated and available for all.