Because x86 and x64 can use the "Turn Off the Lights" plug-in in his Internet Explorer browser that is available on the desktop computer or laptop. But Windows RT can not use this plug-in, Microsoft doesn't allow extern developers to create an ARM program. So for this, we create this Windows app with the most popular features inside. Such as Atmosphere lighting, Background color, Fade in/out effects from the Turn Off the Lights extension in the Windows Store app. With the basic tool to navigate the web such as a Next & Previous button, URL + Searchbar, Bookmarks, and tabs.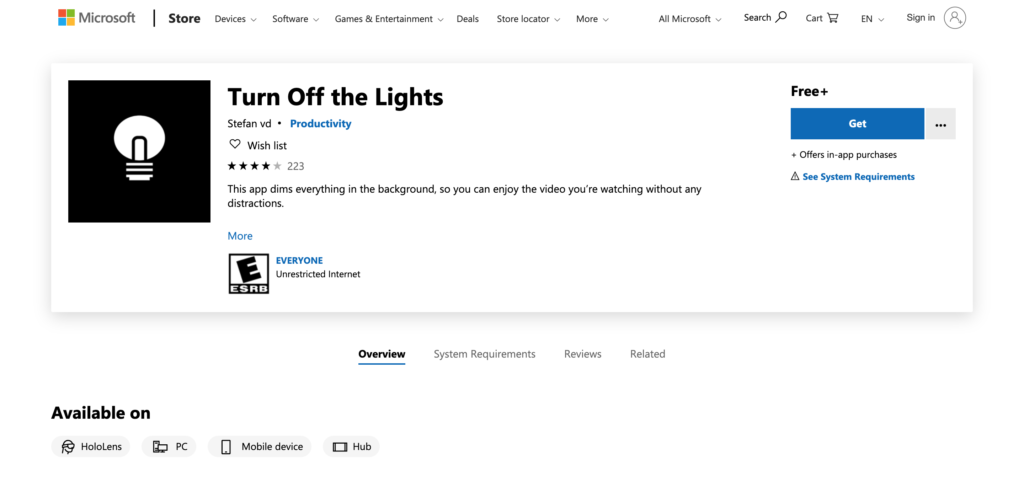 UPDATE January 2020:
Now you can install the official Turn Off the Lights Microsoft Edge extension and enjoy the amazing experience in your Microsoft Edge (Chromium) web browser.
Windows Store
Turn Off the Lights Windows Store app is the only app that changes the way of browsing and watching videos in a cinema on your Surface device. It highlights the video player and dark the rest of your web page.
Inside the Turn Off the Lights app, there is an option to shows a beautiful glow effect around the video player. That math with the content inside the video player. It gives you an immersive and actual viewing experience that has never before been done in an app.
If you like this in your YouTube videos and want to have this also in your own personal video or movies. You can use the Aurora Player app that's also available in the Windows Store.