Do you want the dark theme browser android for your phone or tablet? Then do not look any further because you are on the correct help page. Here on this help page, you can read on how you can get the free dark theme for your Android device (phone and tablet). So this is the best web browser app that has all the features inside such as tabs, universal search box, share, and print button.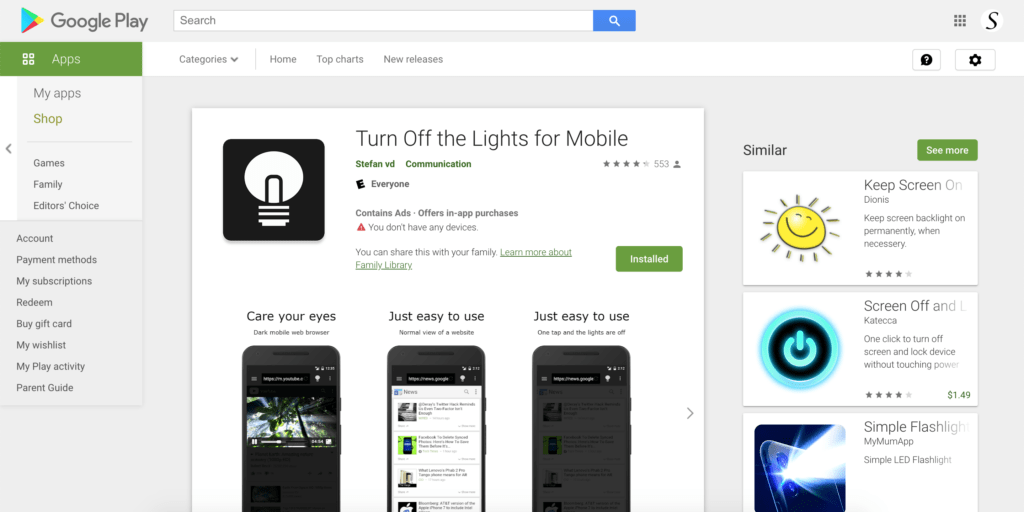 How to get dark theme browser android?
You can get this beautiful and amazing dark browser by following the instruction steps here below:
Go to the Google Play Store and search for "Turn Off the Lights for Mobile" or navigate to this direct Google Play store page
Tap on the big download button
The new app will be installed on your Android phone or tablet. And when you open now this app, you get the dark theme web browser
Also, in the Turn Off the Lights for Mobile app, you can customize the white lamp button action. So you can change the opacity and the dark layer color from the settings page.
And if you have any questions, feedback or need help. You can use the Turn Off the Lights support form. And we are happy to help you.