The settings for Turn Off the Lights for Desktop have many options to customize your screen dimmer experience. The Turn Off the Lights for Desktop (Windows Store App) has two kinds of settings panels. The first one, that is the quick setting menu. Here on this context menu, you change the color and his opacity value of this dark layer. The second, that is the full preference window where you can change all the features in the Turn Off the Lights for Desktop Windows Store app. The premium app is only available for Windows 10 users.
Settings for Turn Off the Lights for Desktop
The first way is to do the lights off on your computer desktop. This by clicking on the white lamp button
Then click right on this white lamp icon. You see that a new context menu will be visible. Here you see a slider bar to increase or decrease the opacity value. But also the color circles to change live the color layer on your screen
Full Options window
Right-click on the white lamp icon right of the Windows clock
And click on the menu item "Preference…". The settings window will show up, and there you can change also the opacity of the dark layer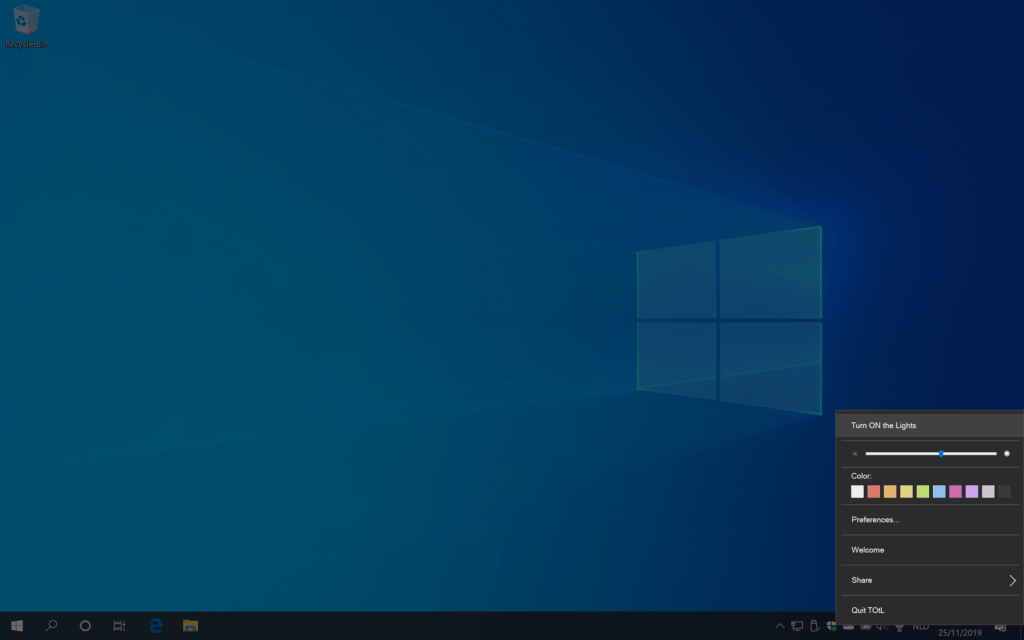 ---
Do you found technical, factual and grammatical errors on the Turn Off the Lights website?
You can report a technical problem using the Turn Off the Lights online technical error feedback form.
---