Are you looking to get the best Dark Theme for Chrome, you can get it very easily today within a few clicks in your Google Chrome web browser. And get a remarkable dark experience that is well designed for your eyes.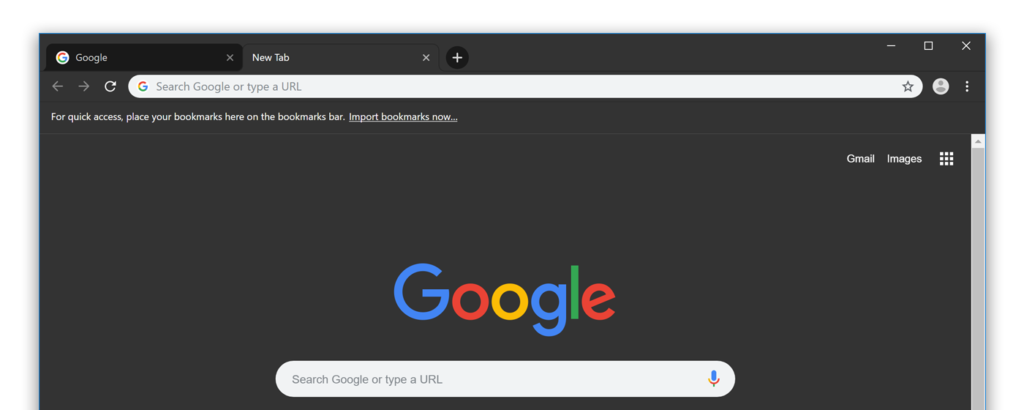 Best Dark Theme for Chrome
This Dark theme is coherent and simple with the current web browser Material Design. Because it has a decent amount of contrast between your active tab, and your inactive tab. So, the inactive tab is darker in the background, as the selected Chrome tab is the same color as your web browser frame. The complete window frame has the 80% darkness of the black color. The text label of the tab strip is readable with his white text color. Also, this dark theme is the best fit to dims the web page and it can improve your browsing experience.
You can download the most wanted and ultimate dark theme from the Chrome web store for free. It is available for Windows, Mac, Linux, and Chromebook computers. Get it Now! https://chrome.google.com/webstore/detail/dark-theme-for-google-chr/annfbnbieaamhaimclajlajpijgkdblo
This is a very wealth theme that is comfortable for your eyes. And it is a good theme for people with strain eyes that cannot keep his focus on the web content. With this delighted theme, you can enjoy the web in dark user interface element. While your website still contains the light day theme (or an option to change the website interface theme, such as the YouTube Dark Mode switch).
If you want to get the best dark experience for all your websites, you can use the free and open-source Turn Off the Lights Chrome extension. Because this is the most useful and powerful tool to get all websites in a dark interface. Also, it a tool that is very unique and never seen before as a browser extension. Try it now, you won't regret it.
---
Do you found technical, factual and grammatical errors on the Turn Off the Lights website?
You can report a technical problem using the Turn Off the Lights online technical error feedback form.
---