Do you want Chrome browser Dark Mode enabled? And that without change your complete operating systems color appearance such as the Windows Explorer and the Windows Start bar? You can solve this issue, by installing just only this free Dark Mode theme in your Google Chrome web browser. Within a few seconds, you have a dark mode web browser.
Dark Mode with a Chrome Theme
By installing this Dark Mode theme, it converts the user interface of your favorite Google Chrome web browser in a dark theme. And it will keep your operating system color schema. You can download directly this free Theme here from the Chrome web store: https://chrome.google.com/webstore/detail/dark-theme-for-google-chr/annfbnbieaamhaimclajlajpijgkdblo
It is the most used and unique Chrome browser Dark Mode theme that is professionally designed to you a great web experience. The frame and background color are not 100% black as a color, but an 80% darkness of the black color. Because if you use a solid black color, that will reflect everything to your computer screen. And make it very difficult to read the text and watch a YouTube video.
For the active tab, is the tab title as the text color in white. While the inactive tab is less bright white as a color. With a more dark background, that makes it very easy to see the open selected tab in the tab strip.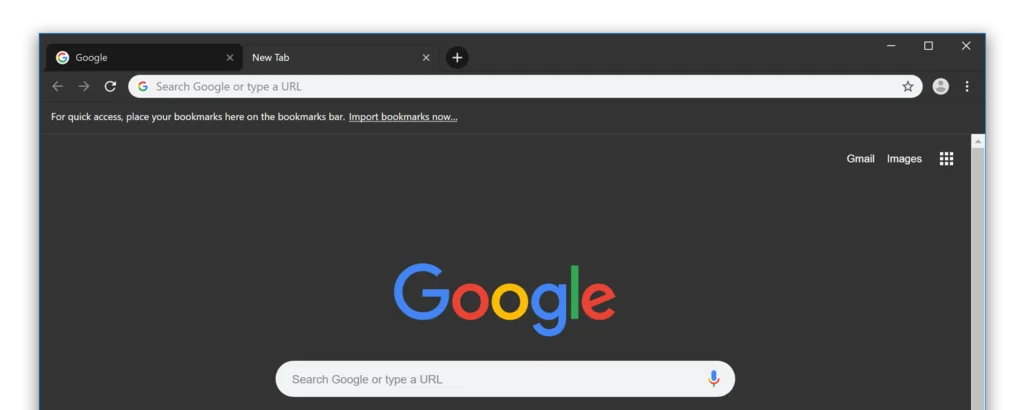 If you want to get back the previous default Chrome theme. You can always reset the Chrome browser Dark Mode theme to your regular theme. Just by opening the Chrome settings page, and click on the big reset button for the theme appearance.
Dark Mode with a Chrome Extension
While this theme converts the user interface of your Google Chrome web browser. You can also convert the whole website in a dark style. That with the Night Mode feature that you can get in the most popular Turn Off the Lights Chrome extension. With a single tap on the night switch, it converts the website stylesheet in your own chosen dark theme color (for background, text, and hyperlink color).