It is one of the Turn Off the Lights browser extension feature that detects the Adobe Flash video players on the current web page. And push automatically all the Flash objects on top of the dark layer, when you click on the gray lamp button in the toolbar. It is a feature that is engineered and designed to detect the video player better and faster.
Flash Detection Level
There are two kinds of levels of Flash Detection in this feature:
The basic, this search for inside the web page, and highlight only the Flash objects that come from this website address.
The hard way, this disables all ads URL checks and Embed Video Player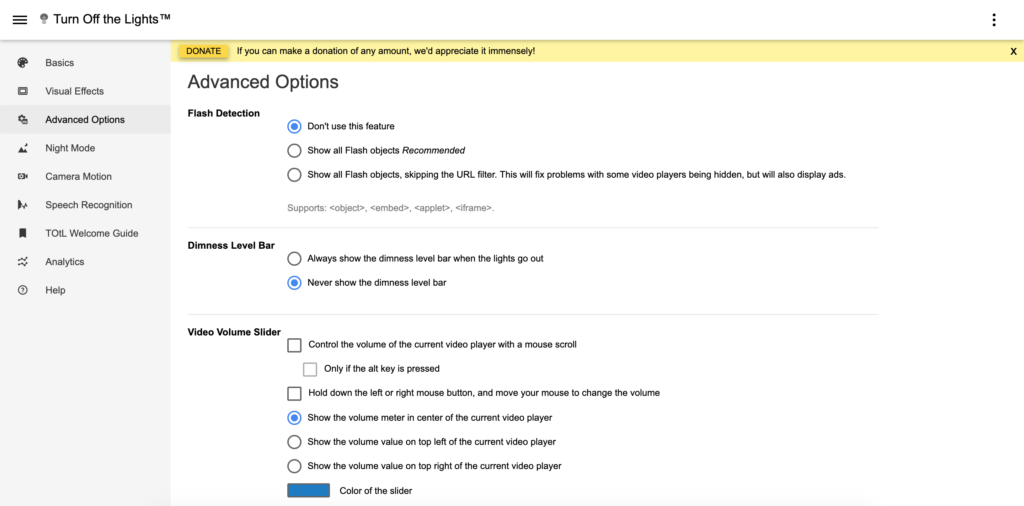 This feature is one of the key engines of the 'video intelligent detection' that makes it works on all video websites. That with the embed video player on other websites such as JW Player, Silverlight.
How to enable the feature?
Default is this feature disable in the Turn Off the Lights options page, but you can enable it by following the instructions here below:
Open your web browser
Click right on the gray lamp icon
And click on Options to open the Turn Off the Lights options page.
Open then the Advanced Options tab
On the top of the web page, you see the subject Flash Detection
There you click the second or third option
---
Did you find technical, factual or grammatical errors on the Turn Off the Lights website?
You can report a technical problem using the Turn Off the Lights online technical error feedback form.
---