Are you a fan of anime and manga, and do you often use MyAnimeList to keep track of your favorite titles, reviews, and recommendations? If so, you might have noticed that the default white background of MyAnimeList can be too bright and tiring for your eyes, especially during late-night browsing or extended sessions. And MyAnimeList Dark Mode can be the solution for this issue.
Unfortunately, MyAnimeList does not offer a Dark Mode feature that you can activate to switch to a more comfortable and stylish dark theme that reduces eye strain and looks great on any device. In this article, we will show you an alternative with a free and Open-Source browser extension on how to enable and customize the MyAnimeList Dark Mode and answer some common questions about this feature.
What is MyAnimeList?
MyAnimeList (MAL) is an online community and database that helps fans of anime and manga discover, organize, and share information about their favorite titles. The platform was launched in 2006 and has since grown into one of the most popular websites for anime and manga enthusiasts.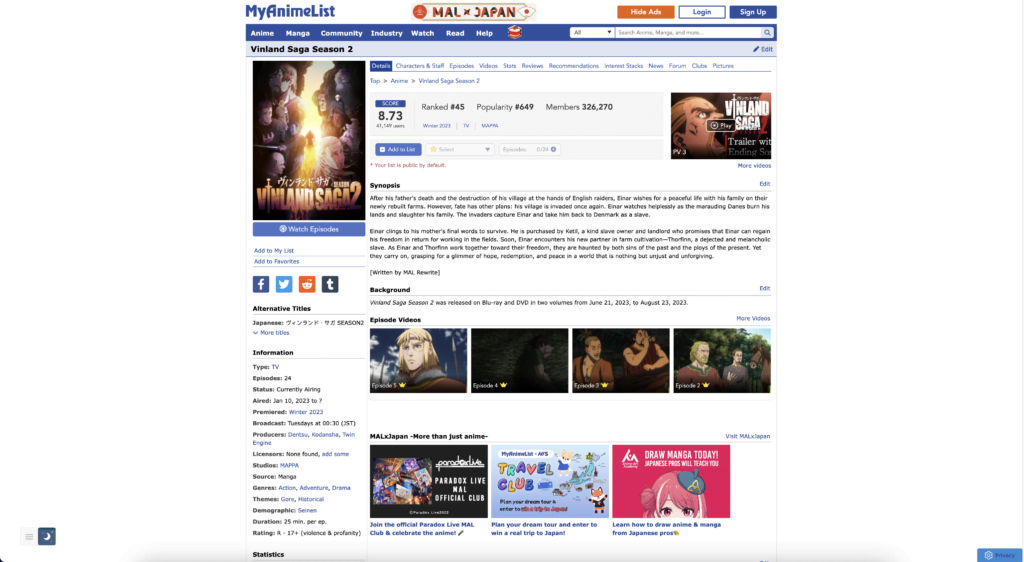 MyAnimeList allows users to create personal lists of anime and manga titles they have watched or read, rate and review them, and connect with other fans who share their interests. The platform also provides information on upcoming and ongoing anime and manga series, as well as news, reviews, and forums for discussion.
One of the most notable features of MyAnimeList is its extensive database, which contains information on thousands of anime and manga titles, including synopses, ratings, cast and crew information, and more. Users can also contribute to the database by adding missing information or correcting errors.
Overall, MyAnimeList is a valuable resource for anyone interested in anime and manga, whether you are a casual fan or a hardcore enthusiast. The platform's user-friendly interface, robust features, and active community make it an essential tool for discovering, organizing, and sharing your love of Japanese animation and comics.
How to Enable MyAnimeList Dark Mode?
Enabling MyAnimeList Dark Mode is easy, and you can do it in a few clicks.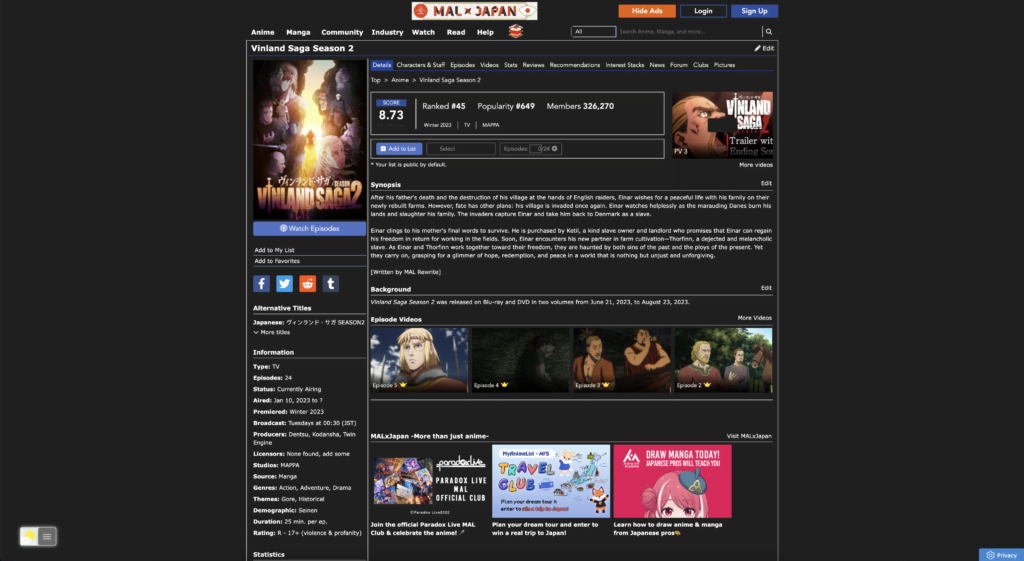 For regular desktop internet users, you can get also this MyAnimeList Night Mode version on your favorite web browser. That is with the Night Mode option in the Turn Off the Lights Browser extension. Follow the steps here below on how to enable this free solution in your web browser:
Download the free and Open-Source Turn Off the Lights browser extension
Click right on the gray lamp button and select Options in the menu item
The Turn Off the Lights Options page shows up and select the tab Night Mode
And enable here the Night switch or the long-press feature to activate the night mode on the current web page
In addition, you can customize the website background, text, and hyperlink colors. So you can make it personal to your night theme style.
How to Customize MyAnimeList Dark Mode?
By default, MyAnimeList Dark Mode will switch the background color from white to black and the text color from black to white. However, you can further customize the Dark Mode theme to your liking by adjusting some Turn Off the Lights browser extension settings. Here are some options you can try:
Change the text color: You can choose a different accent color than the default white by clicking on the Night Mode tab in the Turn Off the Lights Options page, and clicking on the "white" box for text color. You will be presented with a color wheel and a preview of how your new text color will look like. That option is available for text, background, button, and border color.
Change the position of the night switch: MyAnimeList offers also a way to change the position of the Night switch. In the Options page, you can choose for top left, top right, bottom right, bottom left, or even your own custom location on the screen.
Get the lamp button action to activate Night Mode: You can adjust the lamp button action, that to activate Night Mode on the current web page. To get this feature, open the Turn Off the Lights Options page, and select the tab Advanced Options. Then scroll down to the topic "Bulb", and enable the Night Owl profile.
What are the Benefits of Using MyAnimeList Dark Mode?
Using MyAnimeList Dark Mode has several benefits, including:
Reduced eye strain: Dark Mode reduces the amount of blue light emitted by your screen, which can cause eye strain and fatigue, especially in low-light environments.
Better sleep quality: Exposure to blue light before bedtime can disrupt your circadian rhythm and delay your sleep onset. Using Dark Mode can mitigate this effect and help you fall asleep faster and deeper.
Improved aesthetics: Many users prefer Dark Mode for its sleek and modern look, which can enhance their browsing experience and make the content stand out more.
Longer battery life: If you're using a device with an OLED or AMOLED screen, using Dark Mode can save some battery life, as black pixels consume less energy than white ones.
How Does MyAnimeList Dark Mode Affect Your Battery Life?
If you're using a device with an OLED or AMOLED screen, using MyAnimeList Dark Mode can significantly impact your battery life. OLED and AMOLED displays can turn off individual pixels to display true blacks, which can save energy and extend battery life.
Therefore, if you use MyAnimeList for extended periods, switching to Dark Mode can help you conserve battery power, especially if you have a phone or tablet with an OLED or AMOLED display. However, if you have an LCD screen, the difference in battery life might be minimal, as LCD displays use a backlight that consumes a constant amount of energy regardless of the content displayed.
Conclusion
If you are an anime and manga fan who spends a lot of time browsing and interacting with MyAnimeList, enabling Dark Mode can be a game-changer for your viewing experience. Not only does it make the platform look more modern and stylish, but it also reduces eye strain and enhances battery life on compatible devices. Thanks to the free and Open-Source Turn Off the Lights browser extension.
With the easy-to-follow steps we have outlined in this article, you can enable and customize MyAnimeList Dark Mode in no time and start enjoying your favorite titles in a new light. Do not hesitate to give it a try and see the difference for yourself!
If you find it useful to get your myanimelist in Dark Mode, then you can share the link on Facebook or share the link on Twitter. So your family, friends, or colleagues can know about this handy free tool.
Is MyAnimeList Dark Mode available on the mobile app?
No, you can not enable Dark Mode on the MyAnimeList mobile app for Android and iOS. But with the free and Open-Source Turn Off the Lights Safari extension (iOS) and Samsung Internet Extension (Android) you can activate the Night Mode here too on your mobile device in the web browser.
Can I switch back to the default light mode?
Yes, you can switch back to the default light mode at any time by toggling the Night Mode switch off in the MyAnimeList Light Mode.
Does MyAnimeList Dark Mode affect the appearance of images and videos?
No, MyAnimeList Dark Mode only affects the background and text colors of the interface, not the appearance of images and videos embedded in the content.