Table of Contents
Introduction
In the ever-evolving digital landscape, user experience is paramount. Mobile.de, one of the leading online marketplaces for buying and selling vehicles, understands this well. They have introduced a game-changing feature – Mobile.de Dark Mode. This article will guide you through the ins and outs of this exciting new addition and how it can enhance your experience. So, let's dive right in!
What is Mobile.de?
Mobile.de is a prominent online marketplace for buying and selling vehicles, primarily focused on the German market. It is one of the largest and most popular platforms for individuals and dealers to list and discover a wide range of vehicles, including cars, motorcycles, and commercial vehicles. Mobile.de offers a user-friendly interface and a vast database of vehicle listings, making it a go-to destination for those looking to purchase or sell vehicles in Germany. The platform provides various tools and features to help users find the right vehicle or reach a broad audience when selling their vehicles.
What is Mobile.de Dark Mode?
Mobile.de Dark Mode is a feature designed to transform your browsing experience on this popular vehicle marketplace. It's a user-friendly interface theme that inverts the color scheme, making backgrounds dark and text light. This not only provides a refreshing look but also offers several advantages.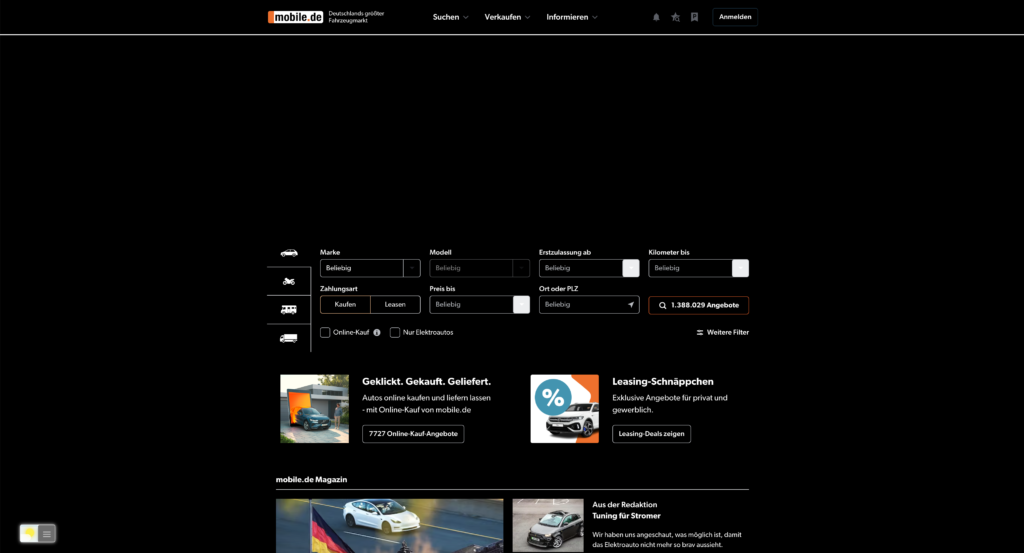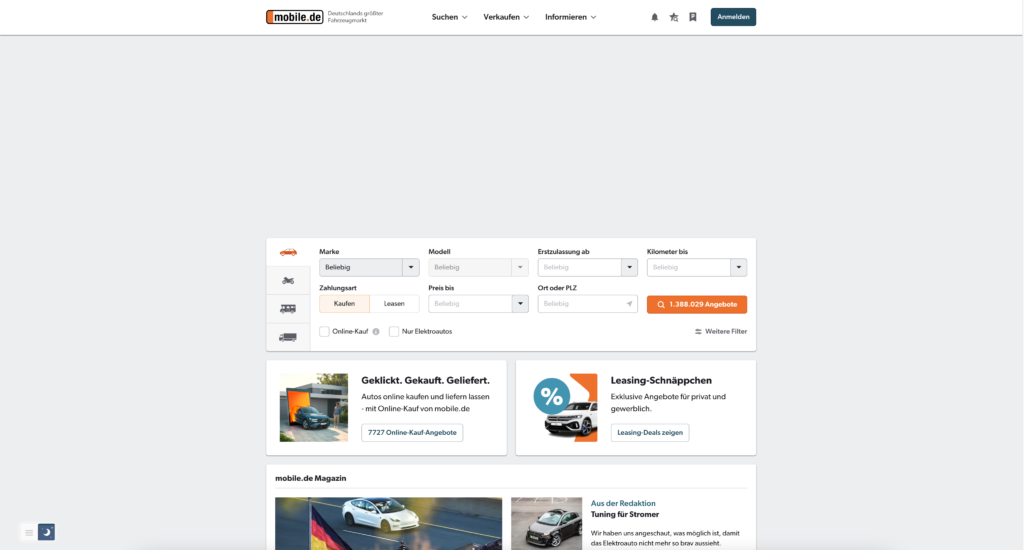 How to enable Mobile.de Dark Mode
Activating dark mode on Mobile.de is a simple process. For regular desktop internet users, you can get also this Mobile.de Night Mode version on your favorite web browser. That is with the Night Mode option in the Turn Off the Lights Browser extension. Follow the steps below on how to enable this free solution in your web browser:
Download the Turn Off the Lights browser extension
Click right on the gray lamp button and select Options in the menu item
The Turn Off the Lights Options page shows up and select the tab Night Mode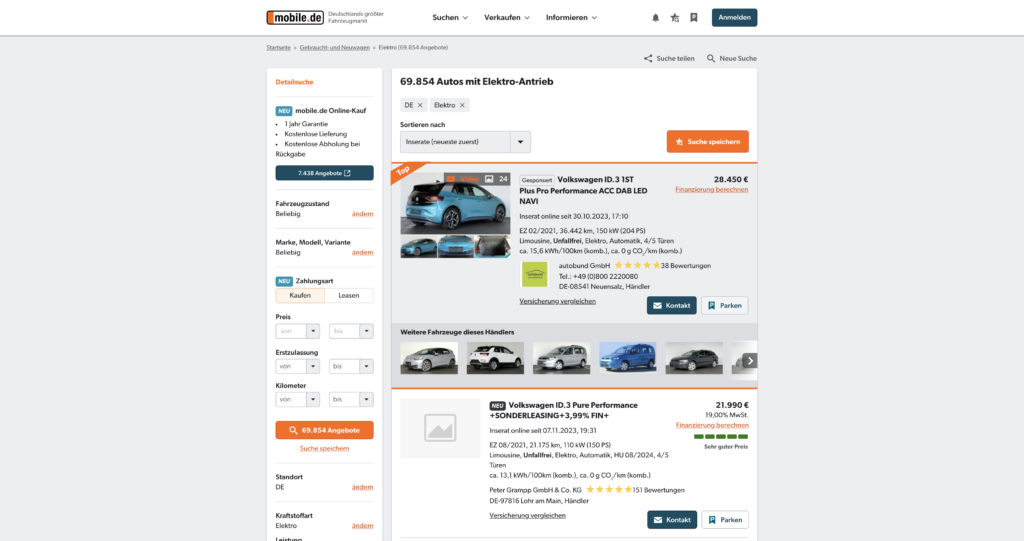 Enable here the Night switch or the long-press feature to activate the night mode on the current web page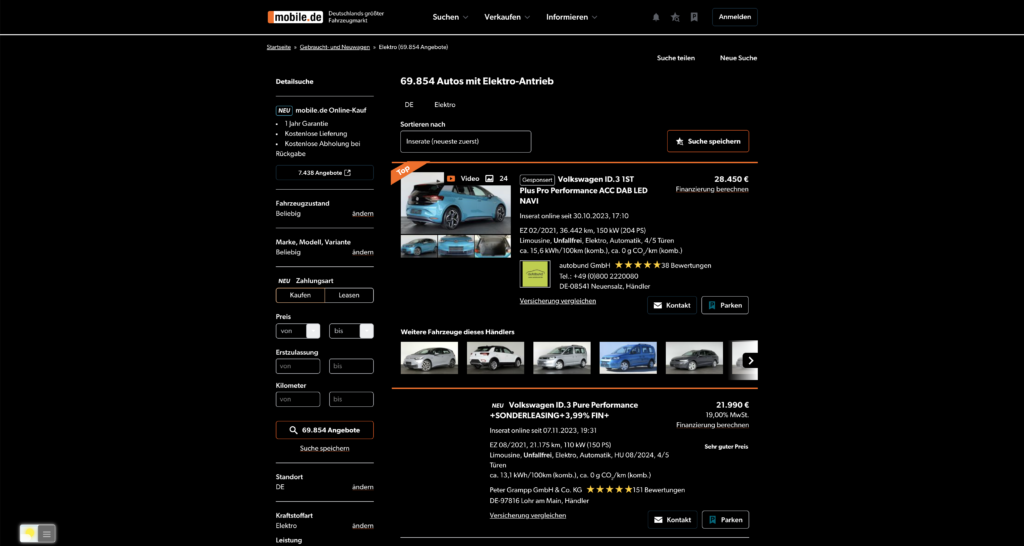 Benefits of Mobile.de Dark Mode
Embracing this feature can have a significant impact on your experience. Here are some of the key benefits:
Reduced Eye Strain: The dark background reduces the intensity of light emitted by your screen, resulting in reduced eye strain during prolonged browsing sessions.
Extended Battery Life: For users on mobile devices, the dark mode can help save battery life, as it requires less power to display dark colors.
Improved Visibility: The contrast between text and background enhances visibility, making it easier to navigate and find information.
Stylish Aesthetic: Dark mode isn't just practical; it's also stylish and visually appealing, giving a modern touch to the platform.
How to Activate Mobile.de Dark Mode
Activating Mobile.de Dark Mode is a breeze. Here's how you can do it:
Login: First, log in to your Mobile.de account.
Profile Settings: Navigate to your profile settings by clicking on your profile picture or username.
Appearance: Look for the "Appearance" or "Theme" option in your settings.
Choose Dark Mode: Click on "Dark Mode" to enable the feature.
Enjoy: Mobile.de will instantly switch to the dark mode, providing you with a new and refreshing browsing experience.
Conclusion
Mobile.de Dark Mode is a welcome addition to the world of online vehicle sales. It not only enhances the visual appeal but also offers practical benefits, making your browsing experience more enjoyable and convenient. Activate Dark Mode today and embark on a journey through the world of car sales in style.
If you find it useful to get your Dark Mode for Mobile.de, then you can share the link on Facebook or share the link on Twitter. So your family, friends, or colleagues can know about this handy free tool.
FAQ Mobile.de Dark Mode
Is Mobile.de Dark Mode available on all devices?
Yes, Mobile.de Dark Mode is available on both desktop and mobile devices, ensuring a consistent and enjoyable experience for all users.
Can I customize the appearance in Dark Mode?
Yes, with the free and Open-Source Turn Off the Lights browser extension you can change the background, text, and hyperlink color of the Dark Mode theme.
Can I switch back to the regular mode?
Of course! You can easily switch back to the regular mode by following the same steps used to enable Dark Mode.
Will Mobile.de Dark Mode affect my listings?
No, enabling Dark Mode won't impact your listings or interactions on the platform. It's all about personalizing your browsing experience.