Yes, is there a Night Mode for Chrome web browser. And you can enable this feature in the settings page. In Google Chrome you can get a light and dark user interface that depends on your operating system appearance setting. Here the steps on how you get the light or dark window style: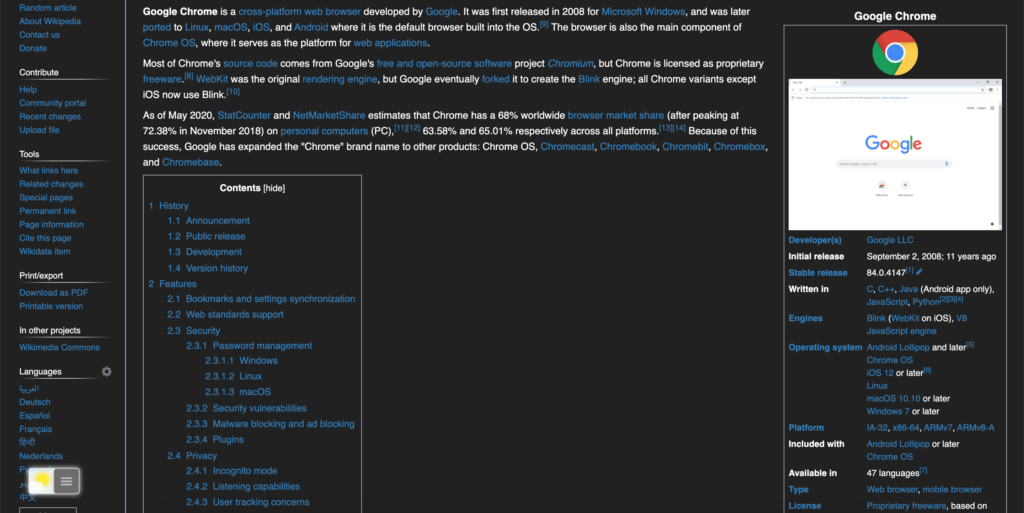 Night Mode/Dark Mode for OS?
Windows (since Windows 10)
Click on the Windows flag button in your taskbar
And open the Settings app
Select the Personalization button, and here you can choose for Dark or Light app mode
Mac (since macOS Mojave and higher)
Open the System Preferences from the Apple Dock menu
And select General from the window
Here you can choose for Light, Dark or Auto appearance
Is there a Night Mode for Chrome web browser?
That will only change the element around the website and not the website itself. So to convert the current website, you can use the free and powerful Turn Off the Lights Chrome extension. Is there a Night Mode for Chrome and that converts everything in your own night theme.
Install the Turn Off the Lights Browser extension in your web browser
Open the Turn Off the Lights Options page and click on the Night Mode tab
Personal choice to get the Night Mode enabled:

Show a switch on the current web page

And enable the first checkbox that shows the night switch on each web page

Automatically each time you visited a web page

And enable the checkbox to automatically convert the web page in night interface when you click a hyperlink or open a new web page

Use the long press to activate the Night Mode on the current web page

So each time you long pressing (for about 2 seconds) on the current web page. After that, it automatically converts the current web page to your own customized night theme. Long press again, and you get the back the regular web page design