In Turn Off the Lights v3.1 and higher, there is a new amazing feature to stop automatically playing the YouTube and HTML5 video on that web page. So if you open a YouTube video (or an HTML5 video on that web page) in a new tab, it doesn't continue to play. So it stops directly with automatically playing the video. When you opening this new tab, you will see that the video is on pause. And you can easily play the video with a click on the play button of that video player.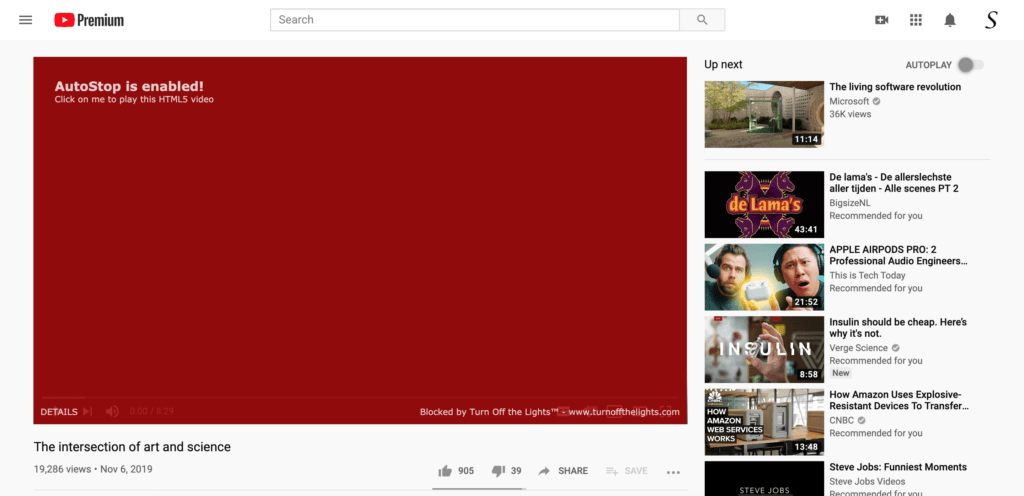 Stop Automatically Playing
This great to stop the distraction and annoying sound in the background, that when you are searching for a product or an answer online. To have this AutoStop feature enabled, go to the Turn Off the Lights options page. And follow the instruction steps here below:
Click right on the gray lamp button in your web browser toolbar
Select Options from the context menu
The Turn Off the Lights options page will be opening in a new tab
And in the first Basic tab, search for the topic AutoStop. And enable the checkbox to enable this feature
---
Did you find technical, factual or grammatical errors on the Turn Off the Lights website?
You can report a technical problem using the Turn Off the Lights online technical error feedback form.
---