Remove Chrome extensions
If the gray lamp button is visible in your Chrome toolbar. Then the official Turn Off the Lights Chrome extension is installed in your Chrome web browser. So to remove Chrome extensions, and to remove it completely from your web browser, follow the instruction steps here below:
Click the Chrome menu ⋮ on the browser toolbar
Click on the menu item More Tools
Select Extensions
Click the Remove button icon by the extension you'd like to completely remove
A confirmation dialog appears, click Remove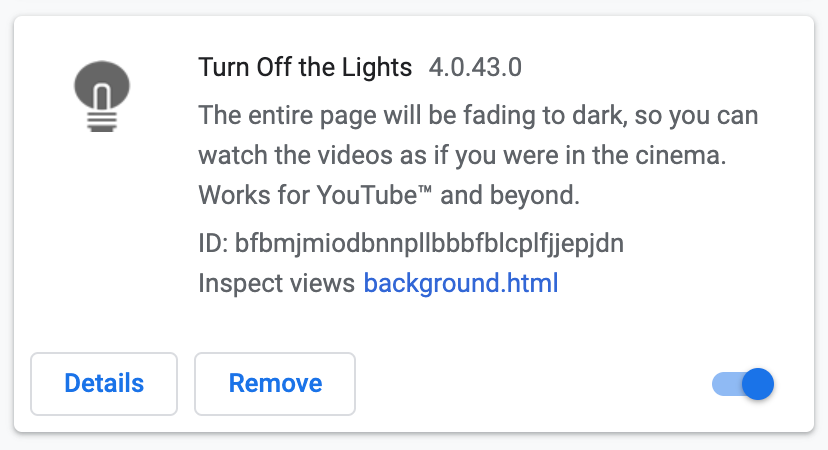 You can also temporarily turn off an extension by disabling it on the Chrome Extensions page. So you can still keep the extension in your Chrome web browser, but it will do nothing in the background and do not add a gray lamp button in your Chrome web browser. When you enable back the blue switch, it adds the gray lamp button. And run the background page in the Chrome web browser.
If you are a Chromebook user, then follow the steps here below to remove a Chrome extension
Open your Chrome window,
Click the Chrome menu ⋮ on the browser toolbar
Click on the menu item More Tools
Select Extensions
Click the Remove button icon by the extension you'd like to completely remove
A confirmation dialog appears, click Remove
YouTube video tutorial
How to install the Turn Off the Lights Chrome extension
How to uninstall the Turn Off the Lights Chrome extension