Table of Contents
Introduction
If you are looking for how to disable a Chrome theme in your Google Chrome web browser, then you are on the correct help page. Our Turn Off the Lights software contains 2 kinds of personal experiences. One is the Chrome extension to dims the web page and focus the video player on the current web page. And the second experience is the dark/light Chrome theme for your Google Chrome web browser. That you can download on this official Turn Off the Lights Browser Theme website. So you get a more simple and ultra-dark/light user interface for your Chrome web browser.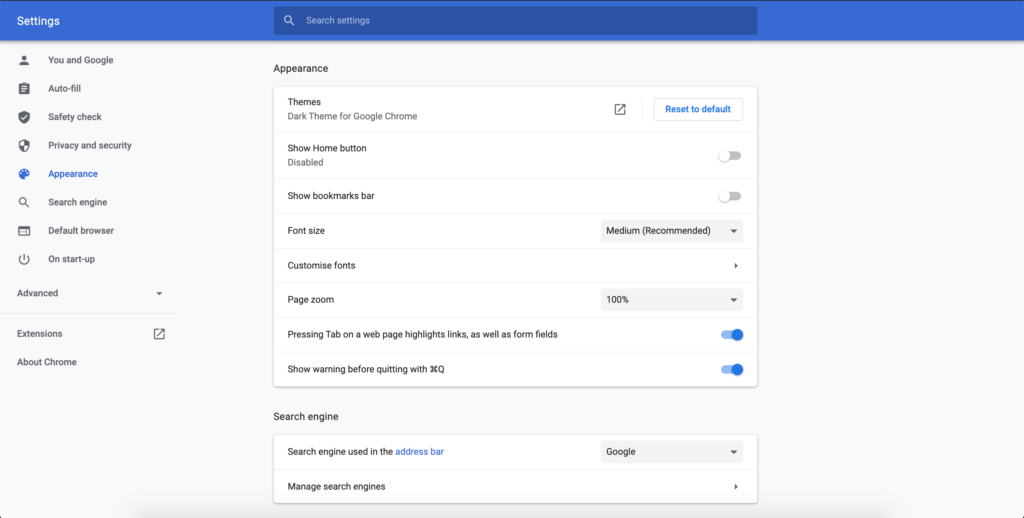 Solution on how to remove a Chrome theme?
With the Google Chrome web browser, you can customize the web browser interface to your personal style. And you installed one of the Chrome themes from the Chrome web store. But something you do not like the current theme and you can remove a Chrome theme very easily by following the steps here below:
Click the Chrome menu ⋮ on the browser toolbar
From the menu click Settings, and below the text Appearance you see the topic theme
Click on the gray button Reset to default

theme

to get back your default Chrome theme
YouTube Tutorial
How to uninstall a Chrome Theme?
How to install a dark theme?