Table of Contents
Introduction
Looking for a Safari Black web browser? Getting a black Safari web browser is a good step to protect your eyes late at night. And make the web page more comfortable and healthy for your eyes. Below you see two free solutions to get you the best night experience you ever can install on your personal Mac computer, and your mobile device.
What is the Safari web browser?
Safari is a web browser developed by Apple for use on its Mac and iOS operating systems. It is the default browser on Apple devices and is known for its speed and energy efficiency. It also includes features such as a built-in reading list, private browsing, and support for Apple's Siri voice assistant. It is fast, efficient, and easy to use, making it the perfect choice for Apple users.
Benefits of Dark Mode?
Dark mode is a feature that changes the color scheme of a web browser or application to a darker color palette, which can be easier on the eyes and can help to reduce eye strain, especially when browsing at night or in low light conditions. The main benefit of dark mode in Safari is that it can make browsing more comfortable for users and it may also help to conserve battery life on devices with OLED screens.
Additionally, dark mode can also help to reduce the amount of blue light emitted by the screen, which has been linked to sleep disruption. This can be especially beneficial for users who spend a lot of time browsing the web or using their devices at night.
It is worth noting that Dark mode can be a personal preference and not all users may find it beneficial. Some users may prefer the standard light mode over the dark mode.
A. How to make Safari black on Mac
Here are the instructions steps on how to make Safari black web browser on your macOS (Mojave, Catalina, Big Sur, Monterey, Ventura, and higher):
Open the Mac System Preferences from your Dock or from the Launchpad
In this window, tap on General
And in this window, you can change Appearance to Dark Mode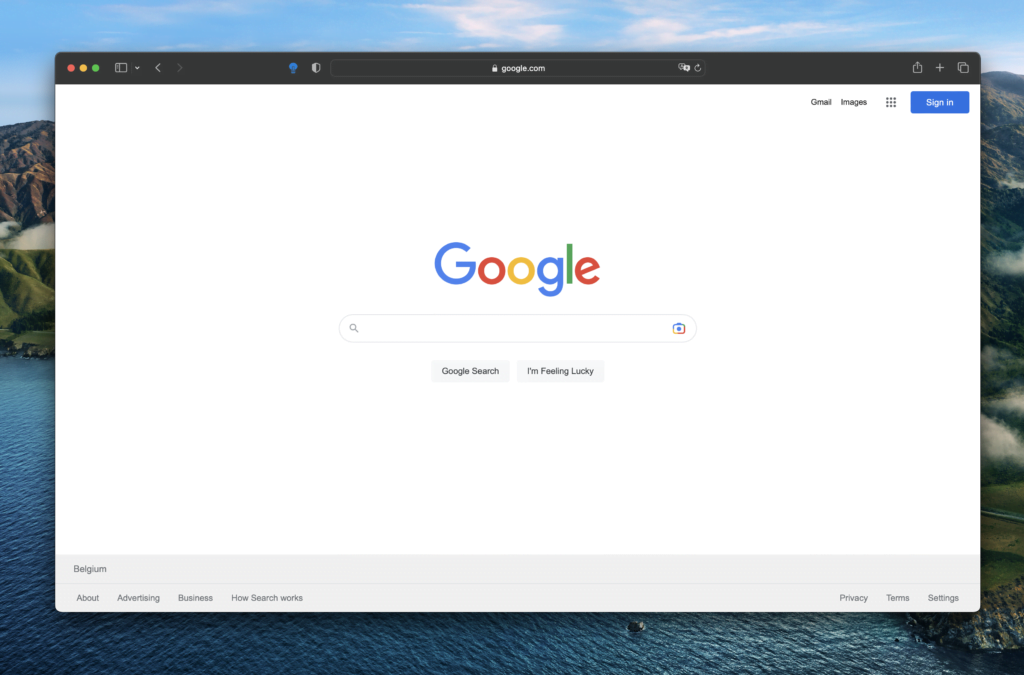 When this option is enabled, everything on your desktop will get a dark tin. And also your application such as Safari but also Finder, Calendar, and Mail app.
The solution to getting any website content in a Black theme
If you are an Apple user looking for a more powerful and customizable web browsing experience, the Turn Off the Lights Safari extension is definitely worth considering. With its advanced features and customization options, it offers a level of control and flexibility that you will not find in the standard Safari browser. Give it a try and see the difference for yourself.
B. How to make Safari black on iOS
You can enable the dark Safari by following the steps below:
Open your Settings app
Select the menu item Display & Brightness
And below the topic appearance, tap the radio button Dark
That is for all iOS devices such as iPhone, iPad, and iPod Touch.
The solution to converting each web page into a night theme
To get for each website a dark background and the text in white as the color. You can install the Turn Off the Lights for Mobile app (available for iPhone and iPad). And install the Night Mode extension.
Conclusion
How to turn dark mode on Safari?
Is there Safari black mode?
How to enable Safari dark mode?
What are the benefits of using Safari black mode?
How to install Safari black?
Enable dark mode on any website
If you find it useful to get your Safari Black mode, then you can share the link on Facebook or share the link on Twitter. So your family, friends, or colleagues can know about this handy free tool.