Are you a night owl? Enable dark mode for websites (night mode) on all websites (such as on YouTube, Google News, etc). So get the Dark mode for everything you browse on the internet, and from top to down is a dark web page. Here are the step by step instructions to enable the Dark Mode for all websites: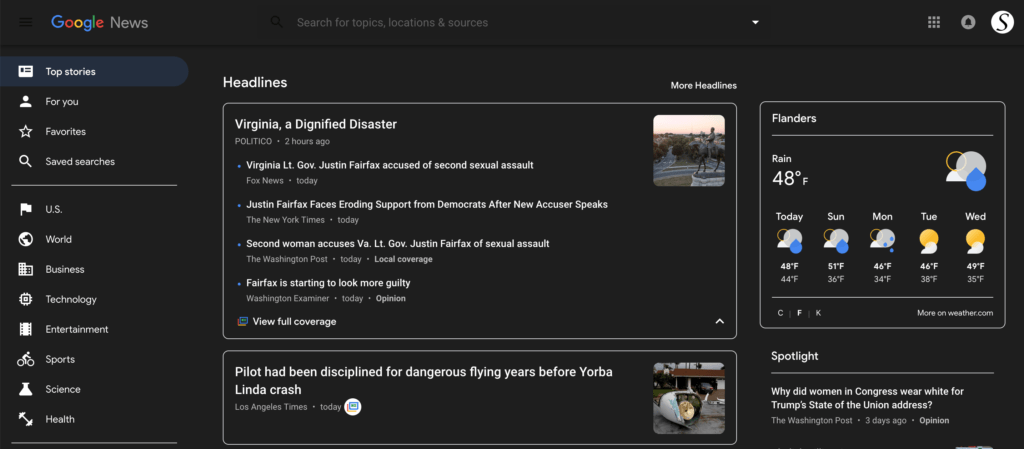 Dark mode for websites
Install the Turn Off the Lights Browser extension. That is available for Google Chrome, Firefox, Opera, Safari, and Microsoft Edge web browser.
When the extension installation is finished, you will see a gray lamp button right of your address bar. Click right on this gray lamp button and select Options.
You see that it opens the Turn Off the Lights Options page, and click on the tab Night Mode.
Enable the first checkbox, as this will add a night switch on each web page. And with a single click on this switch, it converts the current website in a dark interface that most comfortable to use at night.
Optional there is an option in the Turn Off the Lights Options page to get this Night Mode always enabled when you browse or click on the hyperlink. See the checkbox "Automatically go to Night Mode when a new web page is opened".
The Turn Off the Lights does not ruin your browsing experience by simply inverting images (because that lacks high quality and compromise your web browser performance). The Night Mode feature analyzes the current stylesheet, convert, and successfully delivered the new dark theme stylesheet for this website. No extra hardware acceleration processes needed for this change. And you will see your content on the current web page. This uses the correct and high professional way to get the correct dark mode. You will browse the web as authentic and the official stylesheet of that website. Try it now this useful dark experience in your favorite web browser!
YouTube video tutorial
How to enable Night Mode on any websites
How to activate Night Mode with Double-Click