Firefox is one of the web browsers of Mozilla that have a different view of privacy and security. And the support for Chrome extension, called Web Extensions (that support also Microsoft Edge, and Apple Safari). And if you want a comfortable and best night eye Firefox experience. You can get the free Turn Off the Lights Firefox extension.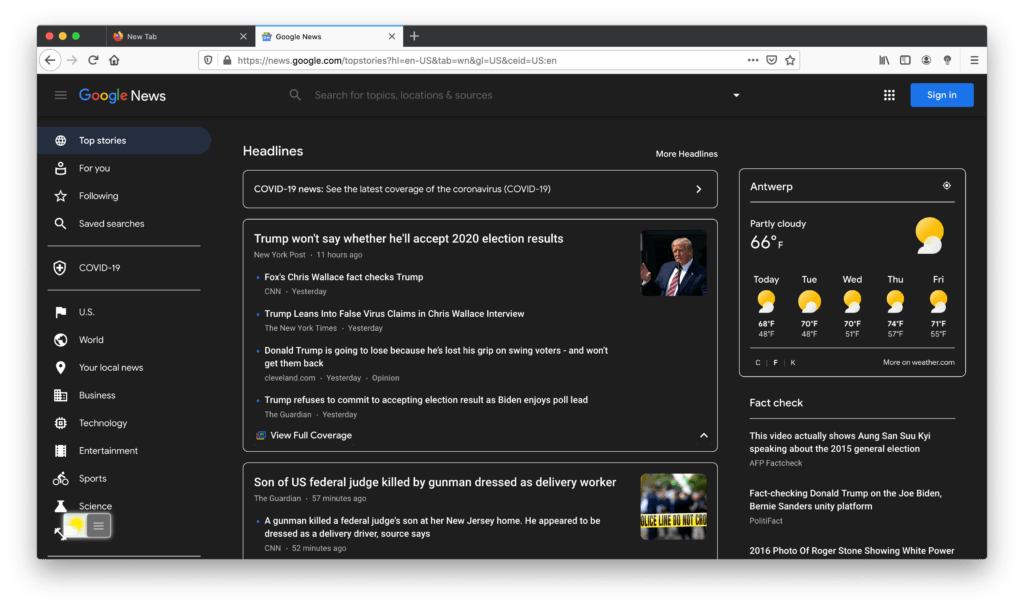 With free and Open-Source Turn Off the Lights Firefox extension, you can enable the option to get a Night Mode for all websites. And get the ultimate Night Eye Firefox web browser. See the steps on how to enable a comfortable night eye experience.
Download the free and most popular Turn Off the Lights Firefox extension
Click right on the gray lamp button, and choose the menu item Mange extension
The Firefox add-page show up and click on the 3 dot icon right of the Turn Off the Lights name.
Now choose in this menu, the menu item Preferences
The Turn Off the Lights Options page shows up, and here you can enable in the Night Mode tab the personal and customizable dark theme for all websites
The Best Night Eye Firefox Features
You can get this personal Night Mode worked on all websites. That will not convert or invert the images to incorrect preview. It will adjust the stylesheet so you keep the fast performance of your web browser.
Customize the color you want to see on all website: the background, text, and hyperlink color
Double click menu tab, to control live the current web page night mode style to your preference and save it instantly
See the night switch on all your favorite websites
Create a transparent night switch and on hover will highlight the night switch on the current web page
Optional to add website in a allow or disallowed table
Optional to long-press to activate and disable the Night Mode feature
---
Did you find technical, factual or grammatical errors on the Turn Off the Lights website?
You can report a technical problem using the Turn Off the Lights online technical error feedback form.
---