Table of Contents
Introduction
In this digital era, online directories have become an indispensable part of our lives. Yellowpages, a popular platform for finding businesses and services, has consistently evolved to meet user demands. One such advancement is the introduction of the Yellowpages Dark Mode. This user-friendly feature not only enhances the browsing experience but also reduces eye strain, especially during nighttime usage. In this article, we will explore the benefits of the Yellowpages Dark Mode, how to enable it, and address frequently asked questions to help you make the most of this exciting feature.
What is Yellowpages?
Yellowpages is an online directory that provides information about businesses, services, and professionals in a specific area. It serves as a platform for users to search for contact details, addresses, customer reviews, and other relevant information about businesses. Yellowpages is designed to help people easily find and connect with local businesses, making it a valuable resource for individuals seeking products or services in their vicinity. With a wide range of categories and extensive listings, Yellowpages simplifies the process of locating and contacting businesses for various needs, such as restaurants, healthcare providers, home services, and more.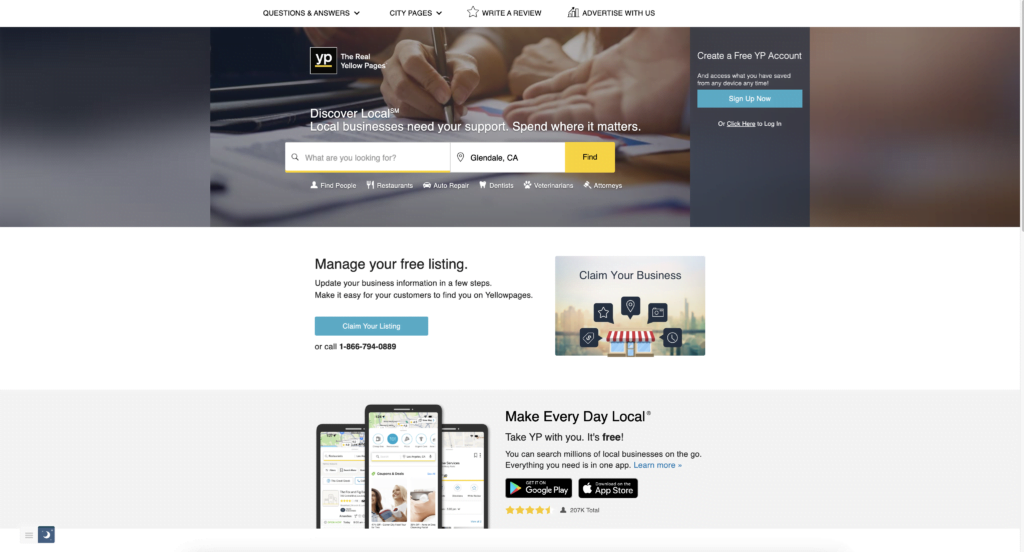 Benefits of Yellowpages Dark Mode
Enabling the Yellowpages Dark Mode provides numerous advantages for users:
Reduced Eye Strain: Dark Mode reduces the contrast between the screen and the surrounding environment, resulting in less strain on the eyes, especially in low-light conditions.
Extended Battery Life: Dark Mode consumes less power on devices with OLED or AMOLED screens, helping to preserve battery life.
Improved Focus: The absence of bright colors and a darker interface creates a focused browsing environment, minimizing distractions and allowing users to concentrate on their search.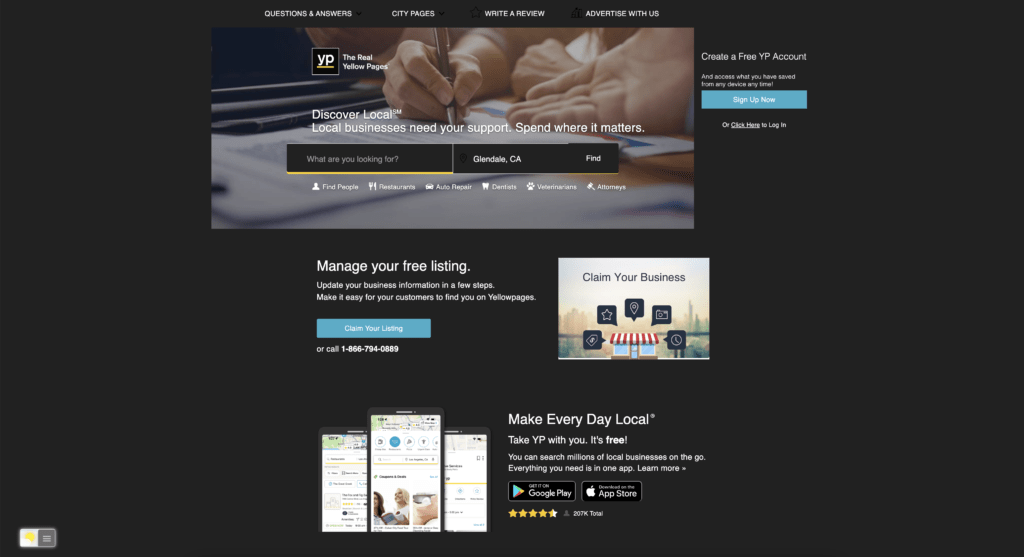 How to Enable Yellowpages and Dark Mode
Activating dark mode on Yellowpages is a simple process. For regular desktop internet users, you can get also this Yellowpages Night Mode version on your favorite web browser. That with the Night Mode option in the Turn Off the Lights Browser extension. Follow the steps here below on how to enable this free solution in your web browser:
Download the Turn Off the Lights browser extension
Click right on the gray lamp button and select Options in the menu item
The Turn Off the Lights Options page shows up and select the tab Night Mode
And enable here the Night switch or the long-press feature to activate the night mode on the current web page
In addition, you can customize the website background, text, and hyperlink colors. So you can make it personal to your night theme style. And get the Dark Mode on Yellowpages you want to see in your web browser.
Conclusion
The introduction of dark mode in Yellowpages marks a significant step towards enhancing user experience and reducing eye strain. By offering a visually appealing and comfortable browsing experience, Yellowpages aims to cater to the growing demand for dark mode among its users. With its comprehensive business directory service and the implementation of dark mode, Yellowpages continues to provide an efficient platform for users seeking business information.
If you find it useful to get your Dark Mode for Adblock, then you can share the link on Facebook or share the link on Twitter. So your family, friends, or colleagues can know about this handy free tool.
FAQ
How does Yellowpages Dark Mode benefit me?
Yellowpages Dark Mode offers a more comfortable browsing experience, especially in low-light environments. It reduces eye strain and allows for prolonged usage without discomfort.
Can I enable Yellowpages Dark Mode on all devices?
Yes, Yellowpages Dark Mode is available on both the mobile app and the desktop version, ensuring a consistent experience across various devices.
Does Yellowpages Dark Mode impact battery life?
Yellowpages Dark Mode can help conserve battery life on devices with OLED or AMOLED screens, as these display technologies consume less power when rendering dark-colored content.
Can I schedule Yellowpages Dark Mode?
Yes, in the Turn Off the Lights Options page you can enable the timer schedule to enable the Dark Mode on a certain time of the day.