The Yahoo website is an American web services provider headquartered in Sunnyvale, California, and owned by Verizon Media. The original Yahoo! company was founded by Jerry Yang and David Filo in January 1994 and was incorporated on March 2, 1995. Yahoo was one of the pioneers of the early Internet era in the 1990s. From the first launch day until today, it still has no option to get the Yahoo Dark Mode website. However, there is a solution to this problem. So you will get the best and comfortable dark experience that you can easily read the web page at the night.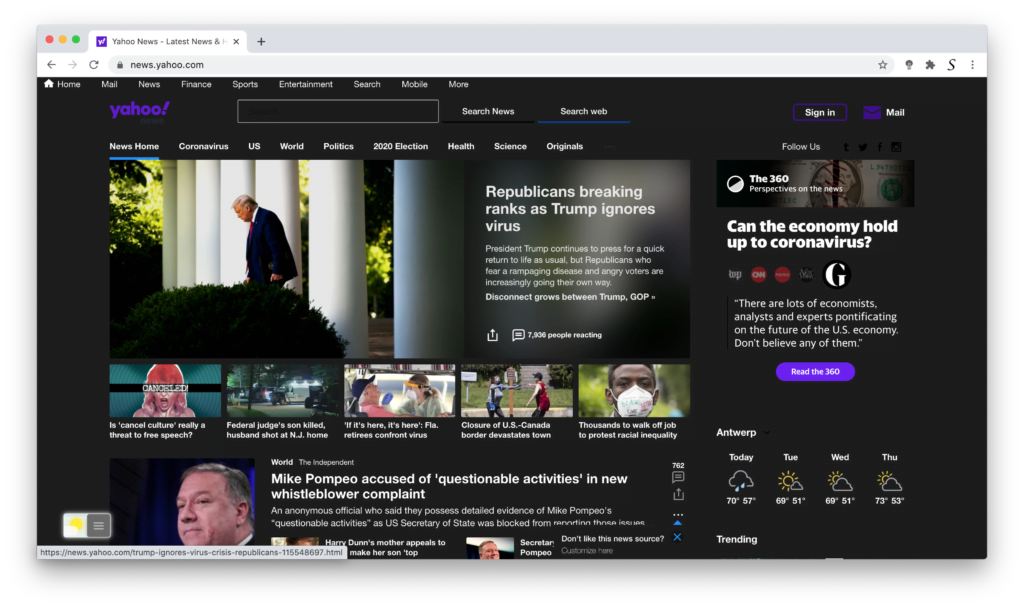 With the free and Open-Source Turn Off the Lights browser extension, you can convert any website to your personal dark mode website (that includes Yahoo Dark Mode and Yahoo finance dark mode). That with the Night Mode feature that is optionally available on the Options page. When you enable this night switch it can convert the current stylesheet to the dark color you want to see. Such as the background, text, and hyperlink colors can be changed to your preference.
Activate Yahoo Dark Mode with the free browser extension
For regular desktop internet users, you can get also this Yahoo Night Mode version on your favorite web browser. That with the Night Mode option in the Turn Off the Lights Browser extension. Follow the steps here below on how to enable this free solution in your web browser:
Download the Turn Off the Lights browser extension
Click right on the gray lamp button and select Options in the menu item
The Turn Off the Lights Options page shows up and select the tab Night Mode
And enable here the Night switch or the long-press feature to activate the night mode on the current web page
In addition, you can customize the website background, text, and hyperlink colors. So you can make it personal to your night theme style.
Conclusion
Hope that answer one of your questions about the Yahoo Dark Mode:
Activate dark mode for Yahoo desktop
How do I make Yahoo Black?
Is there a dark mode for Yahoo?
How to enable dark mode for Yahoo?
If you find it useful to get your Yahoo in Dark Mode, then you can share the link on Facebook or share the link on Twitter. So your family, friends, or colleges can know about this handy free tool.