The Wall Street Journal (WSJ) is an American business-focused. The English-language international daily newspaper based in New York City, with international editions also available in Chinese and Japanese. The Journal, along with its Asian editions, is published six days a week by Dow Jones & Company, a division of News Corp. And does not have an official WSJ Dark Mode. However, there is a solution to this problem.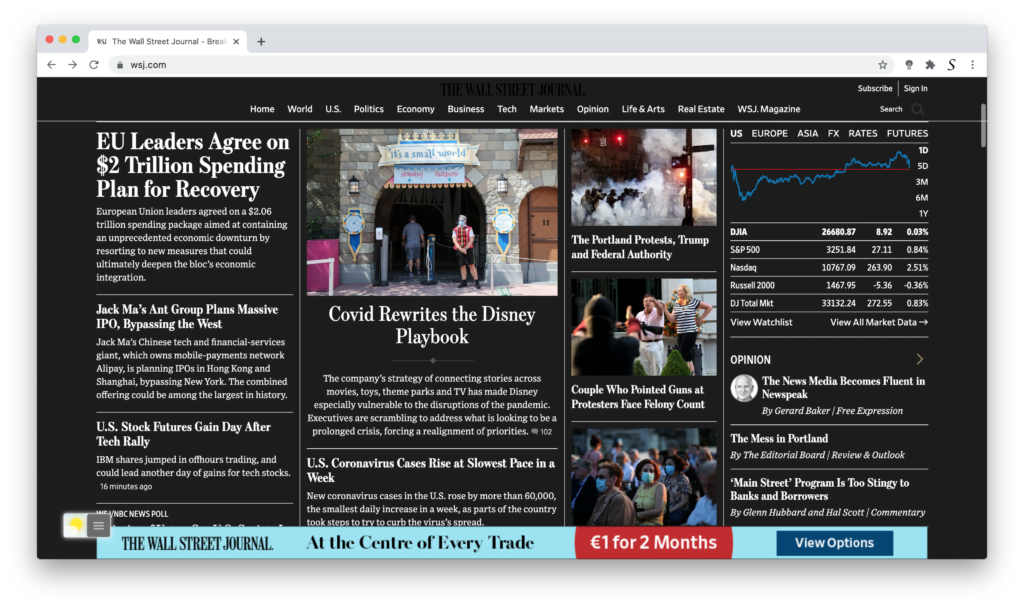 With the use of the free and most popular Turn Off the Lights browser extension you can enable any website in your personal dark mode version. So you have a better, relax, and comfortable read expiernce for your eyes. And you will be not blind by the bright white background in all the news article.
Activate WSJ Dark Mode with the free browser extension
For regular desktop internet users, you can get also this WSJ Night Mode version on your favorite web browser. That with the Night Mode option in the Turn Off the Lights Browser extension. Follow the steps here below on how to enable this free solution in your web browser:
Download the Turn Off the Lights browser extension
Click right on the gray lamp button and select Options in the menu item
The Turn Off the Lights Options page shows up and select the tab Night Mode
And enable here the Night switch or the long-press feature to activate the night mode on the current web page
In addition, you can customize the website background, text, and hyperlink colors. So you can make it personal to your night theme style.