Here on this help page, you can read how to enable the Wattpad Dark Mode for iOS, Android, and the web. But what is Wattpad?
Wattpad is a website and app for writers to publish new user-generated stories. It aims to create social communities around stories for both amateur and established writers. That is founded by Ivan Yuen and Allen Lau.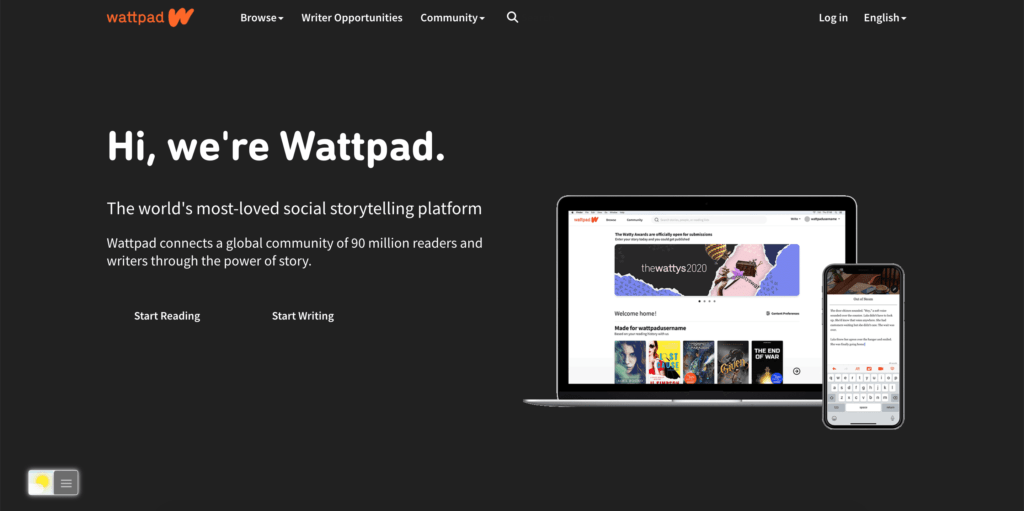 On iOS and Android
When you are on a mobile platform such as iOS and Android, you can enable this Wattpad Dark Mode feature from the device itself. Note that Dark Mode is only supported on devices using iOS 13 or later.
To switch between Dark Mode and Light Mode, you can either:
Go to your Settings app
Go to Display and brightness 
Select 'Dark' and go back to the Wattpad app
Or manually change modes within the Wattpad app:
Tap on Settings from your profile
Select "Dark Mode" in the menu, and choose to turn it on, off, or automatically mirror your device settings
On Web
And according the Wattpad support page is it not possible to get your dark mode version on the web.
Dark Mode is currently only available on the Android and iOS app, and not on the desktop or mobile web version of Wattpad.

Wattpad Support page
However, there is a solution to get Dark Mode on this Wattpad website. That thanks to the free and Open-Source Turn Off the Lights browser extension. That more than 2 million users already using it to get the best web experience in his web browser.
Activate Wattpad Dark Mode with the free browser extension
For regular desktop internet users, you can get also this Wattpad Night Mode version on your favorite web browser. That with the Night Mode option in the Turn Off the Lights Browser extension. Follow the steps here below on how to enable this free solution in your web browser:
Download the Turn Off the Lights browser extension
Click right on the gray lamp button and select Options in the menu item
The Turn Off the Lights Options page shows up and select the tab Night Mode
And enable here the Night switch or the long-press feature to activate the night mode on the current web page
In addition, you can customize the website background, text, and hyperlink colors. So you can make it personal to your night theme style.
Conclusion
Activate dark mode for Wattpad desktop
How do I make Wattpad Black?
Is there a dark mode for Wattpad?
How to enable dark mode for Wattpad?
---
Did you find technical, factual or grammatical errors on the Turn Off the Lights website?
You can report a technical problem using the Turn Off the Lights online technical error feedback form.
---